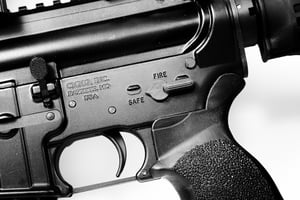 GUNS Magazine contains expert articles about firearms selection and performance. Since 1955, readers of this monthly newsstand publication have enjoyed trusted content about the best guns and gun tools. Today, the magazine's digital version also attracts shooters who want solutions to gun maintenance challenges.
In an on-line article called AR-15 Building Tools Part II, author Glen Zediker describes some "handy" tools for gun owners who want to build or maintain their own rifles. "I think it's important to polish the chamber on any AR-15", Zediker writes. For smoother extractions, he adds, "I like the Flex-Hone tool."
Solving AR-15 Extractor Problems
The AR-15 is a popular rifle, but surface irregularities in the chamber can cause extraction-related problems. If the chamber's surface finish isn't clean and smooth, brass from fired rounds can also accumulate and contribute to failures to eject (FTE). Polishing the chamber supports smoother feeds, but "the polished chamber helps extraction the most," writes Zediker.
AR-15 chamber polishing, the author and gun builder adds, "is most easily done using a specialty tool". The gun tool that Zediker likes, the Flex-Hone® for rifle chambers, imparts a bright, wear-resistant finish. This Flex-Hone® for Firearms tool from Brush Research Manufacturing (BRM) requires the use of a high-quality lubricant such as Flex-Hone® oil, BRM's own special blend of honing and lapping oils.
Flexible Honing for Rifle Chambers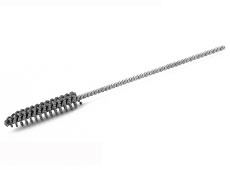 Flexible honing doesn't require any special training or instruction, but there are some best practices to follow. As this instructional video explains, the Flex-Hone® tools should be securely held in a chuck, collet, or similar holding device. Firearms manufacturers typically use CNC equipment or other production machinery, but professional and amateur gunsmiths alike can chuck the tool in a handheld electric drill.
BRM recommends securing the AR-15 chamber in a padded vise and applying a generous amount of lubricant to the Flex-Hone® for Firearms tool. Rotate the flexible cylinder hone prior to entry, and continue rotating the tool until it's fully removed from the workpiece. Never exceed 1000 revolutions per minute (RPM) and avoid over-honing.
Take Aim at gun maintenance challenges
Next week, BRM will participate in the SHOT Week Supplier Showcase, a two-day event that includes the first full day of SHOT SHOW 2018. This marketplace is the ideal opportunity for members of the firearms industry to learn more about Flex-Hone® technology. Whether you're headed to this major event or not, you can learn more about gun maintenance by downloading Flex-Hone® for Firearms brochure.