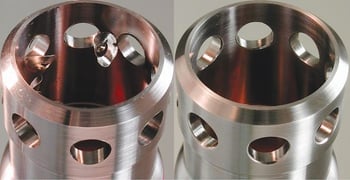 When a manufacturer of jet-engine components automated its deburring operations, a combination of CNC tools provided the right solution. For final deburring and surface finishing, the aerospace manufacturer choose BRM Flex-Hone® tools.
Aircraft engines consist of precision-made parts that connect with metal fasteners. Typically, these static and rotary components have through-holes, machined openings that are drilled or reamed completely through the material. If hole-drilling and edge-breaking processes aren't completed cleanly, part misalignments can occur. Nickel-base and titanium alloys can cause cutting tools to dull quickly, and the extruded burrs that result are difficult to remove once they work-harden.
To solve deburring challenges, some aerospace manufacturers are automating their cutting and finishing processes. The metal parts that leave their CNC equipment are surface finished to spec, and without time-consuming bench operations that can result in inconsistencies between parts. Automated deburring requires the right CNC tooling, however. By using the BRM Flex-Hone® to automate the final deburring of through-holes, a major jet-engine component manufacturer is improving quality.
The Right Deburring Tools

Made in the USA by Brush Research Manufacturing (BRM), the Flex-Hone® is ideal for use with CNC equipment. The tools secures by means of a double-wire metal stem and a Jacobs-style chuck or CAT 40 collet. Known also as a ball hone, the Flex-Hone® features abrasive globules that are permanently laminated to flexible nylon filaments. Self-centering, self-aligning to the bore and self-compensating for wear, the Flex-Hone® tool requires no special training and is easy-to-use.
As a major jet-engine component manufacture discovered, the Flex-Hone® tool is the right choice for the final deburring and edge blending of through-holes. For initial deburring, the aerospace manufacturer uses Heule's DEFA chamfering tool and COFA universal deburring tools. "Smooth Flight", an article in the August 2010 edition of Cutting Tool Engineering, describes these cutting tools in detail. By using Heule's tools in combination with the BRM Flex-Hone®, the manufacturer is mastering demanding requirements.
Standard and Custom Honing Tools
As the CTE article explains, this project also required BRM to apply its technical expertise by designing a custom Flex-Hone® tool. "With our custom design," said Mike Miller, BRM's VP of Global Sales, "we were able to handle combinations of through-holes with countersinks as large as 0.050" over the size of the hole". Heule's tool removes the burr, and the BRM Flex-Hone® rounds the transitions of the edge breaks for final deburring and surface finishing.
Flex-Hone® tools are manufactured in 8 different abrasive types and 11 grit sizes for a variety of base materials and surface finish requirements. Standard deburring and finishing tools are produced in diameters ranging from 4 mm to 36". Flex-Hone® tools are always used in an oversized condition, and flexible cylinders with diamond abrasive filament are often used with harder materials such as ceramic, carbide, aerospace alloys and heat-treated steel.
Get the Future in Finishing White Paper
Are you an aircraft or aerospace manufacturer? Would you like to learn more about how flexible honing solves surface finishing and deburring challenges? To learn more about the Flex-Hone® tool for aerospace applications, download the Future in Finishing White Paper.