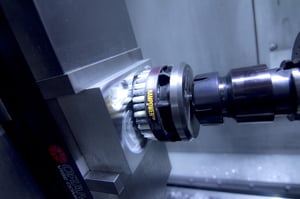 Milling cutters create chamfered edges by removing precise amounts of material. As cutting tools wear, however, they may leave small burrs behind. Manual deburring is time-consuming, but failure to remove surface imperfections can be expensive. Customers may reject poorly-machined parts, and burrs can cause part misalignments and other mechanical problems.
For Orange Vise Co., a machine shop and machine tool manufacturer in Union City, California, automated deburring eliminated off-line operations, improved surface quality, and ensured a burr-free finish. As Eric Sun, the founder of Orange Vise, explains in the July digital edition of Manufacturing Engineering, NamPower technology from Brush Research Manufacturing (BRM) was the right choice.
Quality Meets Efficiency
Before Orange Vise began using NamPower brushing tools, an employee would inspect the chamfered edges on each part and then remove any burrs by hand. Today, Orange Vise removes burrs by using NamPower nylon abrasive brushes with its automated equipment. Thanks to NamPower technology, the company's CNC operators can be sure that each milled part has a consistent, high-quality surface finish.
"It's really desirable to get the finishing operations done straight out of the machine," Sun explains. For starters, he says, "it's more efficient to let the machine do everything inline, so that the part comes out ready to wash and box for delivery to the customer." Some manufacturers prefer to use their equipment for parts production, he adds, but automated deburring fills "unutilized machining hours".
Wire Brushes vs. Nylon Abrasive Brushes
Orange Vise could have automated its deburring operations by using wire brushes instead of nylon abrasive brushes, but NamPower technology offers important advantages. "A problem with wire brushes," Sun says, "is that the bristles tend to shoot out". With contoured parts that contain chamfered edges, the wire filaments may stay "permanently deformed", he adds.
By contrast, NamPower nylon abrasive brushes work like flexible files as they conform to workpiece coutours and wipe across chamfered edges. NamPower abrasive disc brushes also produce maximum burr removal rates and provide an optimum surface finish at the same time. With their unique combination of ceramic and silicon carbide abrasive, these nylon abrasive brushing are long-lasting, too.
Dot Style or Turbine Style?
Orange Vise could have chosen other nylon abrasive brushing tools, but selected NamPower technology from BRM. These high-performance surface finishing and deburring tools are easy to integrate with production machinery. They also work well with a variety of base materials. Examples include cast iron, mild steel, and ductile iron; stainless and alloy steels, and titanium and high nickel alloys.
NamPower abrasive disc brushes come in two different styles: dot and turbine. Orange Vise uses dot-style brushes to deburr highly contoured workpieces and turbine-style brushes for flatter workpieces that require medium-to-heavy deburring. Which type of NamPower disc brush is right for your surface finishing and deburring application? Download the NamPower Resource Guide and find out.