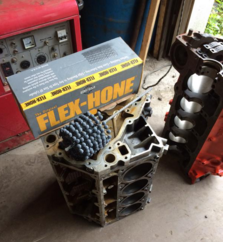 Did you know that the automotive aftermarket is a $36-billion industry? Original equipment manufacturers (OEMs), aftermarket auto parts manufacturers, car dealers, installers, retailers, and restoration specialists all want the best deals and hottest products for their stores, shops, warehouses, and garages.
Where will they find what they're looking for?
Visit BRM at the SEMA Show (Booth #10364)
This week, the Specialty Equipment Market Association (SEMA) hosts the SEMA Show in Las Vegas, Nevada. From November 3 to 6, the Las Vegas Convention Center is where the industry's brightest minds will find its premiere products. For automotive surface finishing and cleaning, the Brush Research Manufacturing (BRM) booth (#10364) is the place to be.
When you visit Brush Research at the SEMA Show, you'll see videos of our automotive tools and technologies in action. You'll also get to talk to our Technical Team and learn more about Flex-Hone® tools for engine cylinders and brake rotors, automotive brushes for engine components, and parts wash brushes for auto parts cleaning. Let's take a look at BRM's industry-leading solutions for automotive projects.
Engine Rebuilds

Flex-Hone® tools improve cylinder-wall surface finish. By imparting a cross-hatch pattern of oil-retaining valleys, these flexible cylinder hones optimize lubrication and reduce engine friction and wear. BRM's flexible honing tools also break the glaze on cylinder walls and remove metal burrs.
Visit BRM in SEMA Show Booth #10364 to learn how BRM ball hones mount in handheld power tools like electric drills. These engine hones are easy-to-use, and are self-centering, self-aligning to the bore, and self-compensating for wear.
Brake Jobs

Flex-Hone® for Rotors tools also have abrasive balls, but are designed for brake rotos instead of engine cylinders. The non-directional surface finish that these rotor hones impart make them an ideal choice for both new and re-turned brake rotors.
For eight years in a row, the Flex-Hone® for Rotors was named a Top Ten Tool by Undercar Digest Magazine. Testimonials from tire and muffler shops, do-it-yourself mechanics, and professional brake specialists attest to the tool's advantages, which include more rotors per hone. To learn more, visit BRM at the SEMA Show.
Engine Components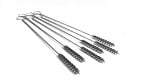 As a full-line supplier of automotive brushes, BRM also offers high-quality brushing tools for oil lines, galleries, valve guides, and spark plugs. When you visit Booth #10364 at the SEMA Show, you'll learn all about these and other BRM brushing tools for engine components.
For example, did you know that BRM supplies valve guide brushes individually, as well as in cost-effective kits? Automotive distributors and other buyers will also find information about automotive tools such as spark plug brushes that are specially packaged for point-of-purchase displays.
Auto Parts Cleaning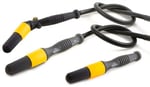 Visitors to Booth #10364 at the SEMA Show will also find parts wash brushes for oil pumps, wheels and wheel bearings, engine and brake components, valves, and gears. These automotive cleaning brushes feature long-lasting filaments and other high-quality materials.
Some BRM parts wash brushes are supplied with a tube that's designed to fit washer nozzles. Our American-owned company also supplies a soft-tip cleaning brush that lets auto detailers remove dirt and debris from places that other cleaning brushes just can't reach.
Visit BRM at the SEMA Show This week
Will you be at the SEMA Show in Las Vegas this week? Plan now to make the most of your tradeshow experience. Request a meeting with BRM, and find industry-leading tools for automotive surface finishing and auto parts cleaning.