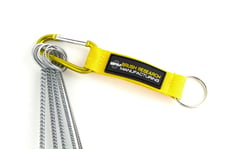 Brush Research Manufacturing (BRM), makers of the Flex-Hone® tool, is now offering special tube brush kits for internal cleaning, rust removal, and surface preparation. Each kit contains six ring-handled tube brushes in a range of sizes with a carbiner for easy storage and handling. Tube brushes are available in stainless steel, carbon steel, brass, nylon, or natural bristle for use with various base materials.
There are three lettered categories of BRM tube brush kits. Kit A is a collection of small brushes for holes with diameters that range from 1/8" to 7/16". Kit B contains medium-sized brushes for 1/2" to 1" holes. Kit C includes larger brushes for hole diameters from 1-1/8" to 1-3/4". For complete product specifications and ordering information, download this BRM brochure.
What Are Tube Brushes?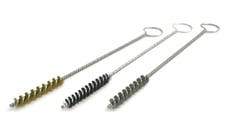 Tube brushes are used for cleaning inside of holes and other hard-to-reach areas such as tubes, internal bores, and cylindrical cavities. Applications include the removal of chips, dirt, oil, rust, and corrosion. Tube brushes, which are also known as cylinder brushes, feature a twisted-in-wire construction and are specified by hole-diameter and fill material.
All of the tube brushes in BRM's six-piece kits are Made in the USA and part of the Los Angeles, California company's Series 84 family of products. These high-quality industrial brushes are ideal for cleaning and deburring through-holes produced by drilling and machining. Unless burrs, contaminants, and other surface imperfections are removed, part misalignments may occur.
Three Tube Brush Kits, Six Brushes in Each
Each of BRM's three tube brush kits contains six brushing tools for a range of hole-sizes.
Kit A contains tube brushes for holes 1/8", 3/16", 1/4", 5/16", 3/8", and 7/16".
Kit B contains tube brushes for holes 1/2", 9/16", 5/8", 3/4", 7/8", and 1".
Kit C contains tube brushes for holes 1-1/8", 1-1/4", 1-3/8", 1-1/2", 1-5/8", and 1-3/4".
When ordering tube brush kits, remember to specify the appropriate part number for the fill material: stainless steel, carbon steel, brass, nylon, or natural bristle. Also, note that while the ringed handles on Series 84 tube brushes support their manual use, these rings can be cut-off to support tube-brush use under power with portable tools or machinery.
Order Your Kit or Get the Brochure
Ready to order BRM's convenient, cost-effective tube brush kits? Then visit this page on our website.
Would you like review detailed production specifications for each tube brush kit instead? Then download the Six-Piece Tube Brush Kits Brochure.