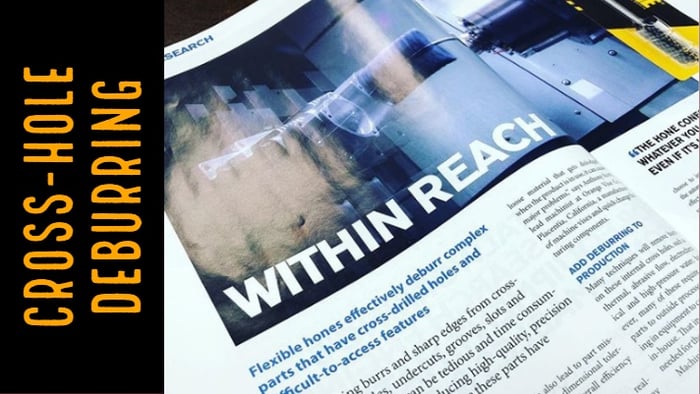 Cross-hole deburring can be tedious and time consuming. It's not easy to remove sharp edges from grooves, undercuts, slots or internal holes either. For precision parts, however, it's essential to have smooth, round edges. Components with hard-to-access features need a close-tolerance surface finish, too.
Manufacturers and machinists can outsource parts deburring, but some choose to integrate surface finishing into their own operations instead. These companies are accelerating parts production and ensuring uniform quality. For optimal results, they're using BRM Flex-Hone® Tools.
As Consumables magazine explains, contract manufacturers like Zodiac Engineering recommend Flex-Hone® Tools for cross-hole deburring. These Made in the USA metalworking tools readily integrate with automated production equipment and can be used with handheld cordless drills, too.
Flex-Hone® Tools are easy-to-use, but it helps to know a few tool tips. Zodiac Engineering has some to share. So does Orange Vise Co., a manufacturer of machine vises and quick change fixturing components. To learn more about cross-hole deburring with a close tolerance surface finish, download Within Reach from Consumable magazine.
.

.