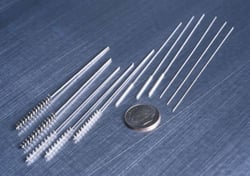 Cross-hole deburring can be a big problem for manufacturers of small metal parts, especially when hole diameters are just a few millimeters or a fraction of an inch. Manual deburring is common, but it's also labor-intensive and can yield inconsistent results. Automated deburring is faster and more uniform, but automation alone isn't the answer.
Manufacturers who deburr small metal parts need more than just the right personnel and equipment. With cross-drilled holes, it's especially important to use deburring tools that impart a burr-free, high-quality surface finish. As a full-line manufacturer of flexible honing tools and industrial brushes, Brush Research Manufacturing (BRM) has the solution.
Series 81A Miniature Deburring Brushes
BRM's Series 81A brushes are miniature cross-hole deburring tools that feature an all-stainless steel construction that resists corrosion and "after-rust", a problem that can affect the surfaces of parts made of stainless steel, aluminum, and other nonferrous metals. Series 81A miniature deburring tools are also used for rust removal, internal cleaning, and surface preparation.
As BRM's Miniature Deburring Brushes brochure explains, Series 81A brushes are available in a range of inch-based and metric-sizes. Parts manufacturers can select cross-hole deburring tools for holes with diameters as small as 0.24" and 1 mm, and as large as 1/4" and 6.5mm". For a complete list of brush tools sizes, download the brochure.
All Series 81A brushes have an overall length of 3", but stem diameters and trim lengths vary. Brushes with longer filaments conform closely to part contours. Brushes with shorter filaments are designed for more demanding applications. Regardless of brush-part size, all of these cross-hole deburring tools are non-loading, which means they won't become clogged with debris.
Series 81A Mini-Brush Kits
The benefits of all-stainless steel brushes are clear, but some manufacturers are reluctant to invest in a large set of cross-hole deburring tools. That's why BRM offers cost-effective kits that contain 12 miniature deburring brushes in a variety of sizes. Mini-brush kits let you try or test different Series 81A brushing tools, and generally cost less than a standard 12-pack of brushes.
BRM supplies Series 81A brush tool kits in both inch-based and metric sizes.
The inch-based kit (Part No. 81AKIT) contains miniature cross-hole deburring tools in these sizes: .032, .047, .054, .079, .094, .109, .125, .142, .156, .172, and .189 inches.
The metric-based (Part No. 81AMMKIT) contains miniature cross-hole deburring tools in these sizes: 1, 1.5, 2, 2.5, 3, 3.5, 4, 4.5, 5, 5.5, 6, and 6.5 millimeters.
Each BRM mini-brush kit also includes a double-ended pin vise with double collets on both ends. Series 81A brushes can also be run under power, but don't reverse the brush inside of the hole. For more information about BRM's cost-effective mini-brush kits for cross-hole deburring, download the Mini Brush Kit flyer