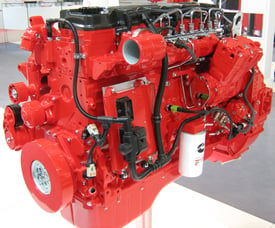 Cummins engines power vehicles and equipment in some of the world's most demanding applications. Whether on-road or off-road, these powerhouses need to provide strong, reliable performance while meeting certification levels such as Euro 6 and EPA 2013. For engine mechanics, choosing the right tools for maintaining Cummins engines is essential.
Brush Research Manufacturing (BRM), maker of the Flex-Hone® tool, provides high-quality brushing tools for Cummins engines. These automotive and diesel tools remove rust, carbon deposits, and dirt from hard-to-reach places. So whether you're changing an injector or seating new coppers, BRM has the brush tools you need for Cummings engine maintenance, rebuilds, and overhauls.
Injector and Injector Cup Brushes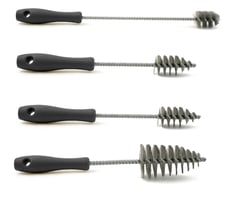 BRM injector brushes for Cummins engines feature stainless steel filaments for efficient cleaning and plastic handles for ease-of-use. These specialty diesel tools are a great choice for field maintenance while the injector is still in the vehicle. Product specifications such as wire size, major diameter, brush part size, and overall length vary by part number.
BRM's injector cup brushes are designed to remove rust, dirt, and carbon deposits that can affect engine performance. These diesel tools have stainless steel filaments and are either cut-for-power or built to be held in the hand. Additional product specifications for these diesel tools include wire size, major diameter, brush part size, and overall length.
Copper Cleaning B and Seat Cleaning Brushes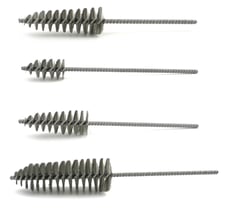 Copper cleaning brushes from BRM are designed for use as bench tools. They're cut-for-power and made with .006" stainless steel wire for cleaning and polishing the entire copper surface. These custom diesel tools have an overall length of 10", but major diameters and brush part sizes vary. For cleaning the copper head gaskets used in high-output Cummins diesel engines, BRM brush tools get the job done right.
BRM seat cleaning brushes are built to promote the proper seating of newly-installed coppers in Cummins engines. These specialty diesel brushes are available with either stainless steel or carbon steel filaments for fast, efficient cleaning and polishing. Seat cleaning brushes for Cummins engines have wire sizes that range from .005" to 0.12". Major diameter, brush part size, and overall length also vary.
Plunger Bore Brushes – Plus a Free Brochure
BRM plunger bore brushes for Cummins engines are the right choice for cleaning popular sizes of plunger bores. These reliable engine tools are built with medium-soft 6-12 nylon filaments and feature a plastic handle that's easy to grip and hold in the hand. BRM plunger bore brushes are available for inner diameters ranging from .400" to 1".
Are you ready to maintain Cummins engines? For more information about BRM brush tools, including part numbers, download the Specialty Diesel Brushes Brochure.