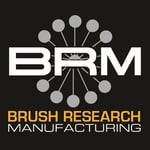 Small-parts manufacturers need tools for deburring, edge blending, surface preparation, and surface finishing. In industries ranging from agricultural equipment to medical device manufacturing, deburring requires the use of high-quality brushes.
Manual deburring can affect part consistency, and small-parts manufacturers expect that parts deburred on a Monday morning will meet the same quality standards as parts deburred on a Wednesday or a Friday afternoon. What's the solution?
Types of Deburring Tools
As a full line manufacturer of flexible hones and industrial brushes, Brush Research Manufacturing (BRM) supplies miniature deburring tools in a variety of filament types. Metal brushes have bristles made of carbon steel, stainless steel, or brass. BRM also supplies miniature deburring tools with nylon, abrasive-filled nylon, and diamond abrasive tools. In addition, small parts manufacturers can choose BRM Flex-Hone® tools as small as 4-mm.
Metal Brushes

Miniature brushes with metal filaments include all-stainless steel deburring tools that are available in diameters as small as 0.024". Typically, metal brushes are used to remove chips from holes, or to clear micro burrs form parts made of stainless steel or cast iron. Unlike other types of metal filaments, stainless steel doesn't readily corrode or leave after-rust. With metal brushes, however, filaments that break can interfere with production equipment or affect the safety of production personnel.
Abrasive-Filled Nylon Brushes

Small-diameter abrasive nylon brushes offer an alternative to metal-filament brushes. Often, abrasive-filled nylon tools are used for thread cleaning and mild surface finishing. BRM supplies miniature nylon abrasive brushes with silicon carbide (SC) and aluminum oxide (AO) abrasive for various base materials, and in a variety of grit sizes for specific surface finishes. BRM brushes with silicate, a mild abrasive, are also available. The base material and finishing requirements determine the abrasive type and grit size to select.
Diamond Abrasive Brushes
Miniature diamond abrasive brushes are recommended for harder materials such as ceramic, glass, aerospace alloys, and hardened tool steels. Theses diamond brushes can be manually-driven or used with power tools, and are stocked in 800-mesh for finer finishes. Upon request, BRM can supply diamond deburring brushes in other meshes. Applications for BRM's miniature deburring tools include medical device manufacturing and aerospace manufacturing.
Small-Diameter Flex-Hone® Tools
BRM Flex-Hone® tools feature abrasive globules that are permanently laminated to the ends of flexible nylon filaments. (By contrast, abrasive-filled nylon brushes have abrasive grains interspersed throughout their nylon filaments.) By putting so much abrasive in contact with the work surface, Flex-Hone® tools remove burrs and improve surface finish at the same time. They're easy-to-use with handheld power tools, and also mount in machine centers for automated deburring and surface finishing.
Which Type of Deburring Tool Do You Need?
Small-parts manufacturers have many different choices for miniature deburring tools. Do you need metal brushes, abrasive-filled nylon brushes, diamond abrasive brushes, or small-diameter Flex-Hone® tools? For more information about all of these surface finishing and deburring solutions, download the BRM Product Catalog. Then, for answers to your specific questions, try BRM's Send In Your Part Program.