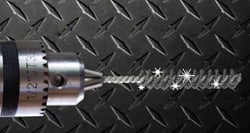 Diamond Flex-Hone® tools combine the soft, resilient cutting action of Flex-Hone® technology with premium coated diamond abrasive for harder materials. These Made in the USA metalworking tools mount in most any rotating spindle and are ideal for deburring, edge blending, and surface finishing parts made of carbide, ceramic, hardened tool steels, and aerospace alloys.
Use BRM's diamond honing tools with inner diameter (ID) applications such as carbide wear rings, ceramic cylinders, and chromed and plated bores. Diamond Flex-Hone® tools are also great for cylinders made of heat-treated steel, high-nickel stainless steel, and MMX aluminum alloys. Additional applications include deburring and surface finishing the small holes in medical devices and aerospace components.
Better Metalworking Tools
Diamond Flex-Hone® tools feature resin-bonded diamond crystals with high friability for self-sharpening edges. The result is a free-cutting cylinder hone with a rapid cut-rate and optimal surface finish. The tool's nickel-coated diamond abrasive also promotes heat dissipation and bond retention for longer tool life. By conforming closely to the contours of machined components, BRM's diamond tools remove burrs consistently, helping to achieve tight tolerances and prevent misalignments in machined parts.
Diamond Flex-Hone® tools also blend edges to promote smooth, radiused transitions. By removing stress risers and improving the quality of machined holes, BRM's diamond hones help to avoid stress corrosion cracks and part damage. Diamond Flex-Hone® tools aren't designed for heavy-duty material removal, however. Rather, their low-pressure, low-temperature abrading process imparts a final surface finish while leaving the base material undisturbed.
Diamond Tools That Shine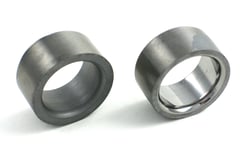 BRM supplies standard Diamond Flex-Hone® tools in sizes ranging from 4 mm (0.157") to 20 mm (0.787"). Sizes available by special order range from 22 mm (0.875") to 38 mm (1.5"). To produce a soft cutting action, all Flex-Hone® tools are supplied and used in an oversized condition. This produces just the right amount of pressure against the cylinder. BRM's diamond hones can be used in handheld electric tools or production equipment like CNC machining centers, and require no special training or instruction.
Diamond Flex-Hone® tools come in three mesh sizes: 170/200, 800, and 2500. Mesh, a size distribution that's related to grit, is measured by passing the diamond abrasive through a stack of screens of sieves. If the surface finish for a machined parts requires significant improvement, start with a lower-mesh diamond hone and then use one or more higher-mesh tools. That's what a manufacturer of carbide wear rings did to lower average surface roughness (Ra) from 0.7 to 0.05 µm and produce a near-mirror finish.
Find Diamond Flex-Hone® Tools at IMTS 2016
Are you headed to IMTS 2016 in September? Then request a meeting with the BRM technical team to ask questions and get answers about Diamond Flex-Hone® tools. Can't wait for the International Manufacturing Technology Show (IMTS)? Not headed to Chicago for this industry-leading event? Then watch this short video about BRM's diamond honing tools, and download the Diamond Flex-Hone® brochure for more information.