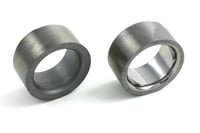 Are you looking for diamond tools that can deburr harder materials and improve surface finish? As a full-line supplier of surface finishing technologies, Brush Research Manufacturing (BRM) provides diamond honing tools, diamond wheel brushes, and miniature diamond deburring brushes to leading manufacturers and a global network of distributors. BRM keeps flexible hones and brush tools in stock, ships products within 24 hours, and can offer expert advice. Which type of diamond tool do you need?
Diamond Flex-Hone® Tools
Diamond Flex-Hone® tools are designed for deburring, edge blending, and surface finishing the bores of cylinders made of harder materials. Applications include carbide wear rings, medical parts, aerospace components, chromed and plated bores, EDM recast layers, and ceramic cylinders. BRM's diamond honing tools are also great for MMX aluminum alloys, high nickel stainless steels, and heat-treated steels.
Diamond Flex-Hone® tools use premium-coated diamond abrasive, which aids in heat dissipation and bond retention. Their resin-bond crystals also have high friability for self-sharpening edges. These diamond hones are also free-cutting, have rapid cut rates, and impart an optimal surface finish. Choose BRM diamond tools in standard diameters of 4mm to 20mm, and in three different mesh sizes.
NamPower Diamond Wheel Brushes
NamPower diamond wheels are designed to polish, finish, and produce edge radii on parts made of harder materials such as CBN, ceramic, carbide, diamond, hardened tool steel, and glass. Applications include polishing the flute reliefs on high-speed steel drills, end mills, and reamers. NamPower diamond wheels are also used to deburr, finish, and produce the proper edge radius on carbide inserts.
With their composite hub construction, NamPower diamond abrasive wheels have a dense, uniform fill pattern that puts more cutting points at the point-of-attack. Available in 600-mesh, this brushing tool's diamond abrasive filaments provide the perfect combination of cutting and finishing power. BRM supplies NamPower wheels in three diameters: 100mm (4 inches), 150mm (6 inches) and 200mm (8 inches).
Miniature Diamond Deburring Brushes
BRM's miniature diamond deburring brushes prove that deburring small holes doesn't have to a big problem in industries such as medical device manufacturing. These diamond deburring tools are also ideal for electronic and aerospace components, precision tool and die applications, and for surface finishing and deburring parts made of ceramic or glass.
Designed for use with harder materials, BRM's miniature diamond brushing tools are available for both through-holes (Series 81-AD) and blind-holes (Series 85-AD). They're available in 800-mesh and used in a slightly oversized condition. For example, a miniature diamond deburring brush for a hole with a diameter of 0.032" has a brush diameter of 0.035".
Learn More about Diamond Tools at WESTEC
From September 15 to 17, the BRM Technical Team will be at WESTEC 2015 in our hometown of Los Angeles, California (USA). Will you be at WESTEC, too? Visit the BRM booth (#2309) for answers to your technical questions about surface finishing and deburring, and to learn more about diamond Flex-Hone® tools, NamPower diamond wheel brushes, and miniature diamond deburring tools.