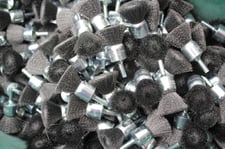 End brushes are industrial brushing tools for tight, recessed, and hard-to-reach areas. Applications include cleaning molds and welds, polishing dies and internal cavities, and removing carbon deposits from piston heads, engine cylinders, and valve seats. End brushes are also used for deburring and spot facing, and for removing rust, paint, slag, and scale.
As a full-line supplier of surface finishing solutions, Brush Research Manufacturing (BRM) provides Made in the USA end brushes that are versatile, reliable, and easy-to-use. Manufacturers and hobbyists alike can choose from solid wire, knotted wire, and circular-flared end brushes for tough tasks in tight spaces. Each type of end brush offers advantages, but which brushing tool is right for your application?
Solid Wire End Brushes and Knotted Wire End Brushes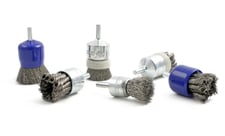 Solid wire end brushes are great for less aggressive brushing applications. Knotted wire end brushes are recommended when more aggressive brushing action is required. Both types of brushes are designed for use under power, typically with handheld tools such as grinders or with production machinery such as CNC equipment.
Solid wire end brushes and knotted wire end brushes are available with carbon steel or stainless filaments in various wire sizes. Solid end brushes with abrasive nylon ends are available, too. All of these industrial brushing tools come in different diameters and three cup styles: standard, banded, and coated cup protector.
Standard-style tools with solid ends are ideal for general-purpose applications. Standard-style tools with knotted ends are used in porting applications, and for removing carbon from heads.
Banded end brushes provide added aggressiveness with less flare and more precise control of filament tips.
Coated cup protector end brushes won't mar or scratch adjoining surfaces, and are recommended for deep-well applications.
Circular-Flared End Brushes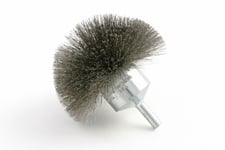 Circular-flared end brushes provide side cutting action. Plus, they won't score the bottoms of blind holes. These industrial brushing tools come with carbon steel or stainless steel filaments in a variety of wire sizes and tool diameters. Manufacturers, machinists, and metalworkers can use circular-flared end brushes with a drill press, or with high-speed portable power tools.
Brush Up with BRM
Would you like to learn more about end brushes for tight, recessed, and hard-to-reach spaces? Watch this video to see how BRM's industrial brushing tools are made. Then download The Use of Industrial Brushes, a free technical book that's packed with information. If you'll be at the ABMA 100th Annual Conference later this month, meet BRM from March 22 to 25 in Orlando, Florida. Stay tuned for more information!