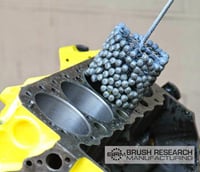 Engine rebuilds are easier when you have the right tools for the job. Brush Research Manufacturing (BRM), a full-line supplier of flexible engine hones and automotive brushes, has the tools and accessories that mechanics need for surface preparation, surface finishing, cleaning, deburring, and cylinder deglazing.
For nearly 60 years, BRM has supplied engine mechanics with high-quality products that are dependable, affordable, and easy-to-use. Let's take a look at some of the automotive tools and accessories you'll find in BRM's product catalog, and that you can order on-line any time.
Standard and Heavy-Duty Flex-Hone® Tools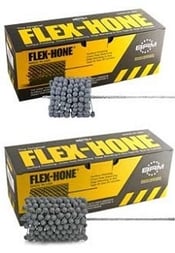 Flex-Hone® tools brake the glaze on cylinder walls. They also remove burrs and impart an oil-retaining surface finish that promotes piston ring seating and sealing. For engine cylinders and liners, GB series and GBD series Flex-Hone® tools provide a low-temperature, low-pressure cutting action.
GB series Flex-Hones are designed for bore diameters from 3-1/4" to 4-5/8". These standard tools are a great value on a cost-per-cylinder basis.
GBD series Flex-Hones are heavy-duty tools for bore diameters from 3" to 8". Larger-diameter tools (5" to 8") have a longer overall length.
Both types of standard and heavy-duty Flex-Hone® tools come in a range of abrasive types and grit sizes.
Flex-Hone® Accessories
Engine rebuilds are better when you combine Flex-Hone® tools with Flex-Hone® accessories. Flex-Hone® oil ensures complete lubrication of cylinder walls and contains a special additive that helps keep metal cuttings and contaminants in suspension. When cylinder honing is complete, BRM's cylinder wash brushes make cleanup a breeze. Use these 6-12 nylon brushes with detergent and warm or hot water.
Brush Tools for Engine Rebuilds
BRM's website and product catalog also contains these brushing tools for engine rebuilds:
BRM also supplies crimped wire wheel brushes for automotive paint removal, knotted wire wheels and knotted wire cups for surface finishing, and NamPower brushes for outer diameter (OD) tasks such as rust and corrosion removal.
For complete product specifications and ordering information, get the product catalog.