FABTECH is North America's largest metal forming, fabricating, welding, and finishing event. With thousand of exhibitors and tens of thousands of attendees, FABTECH is where metal fabricators and and manufacturers find the tools and technologies they need.

Are you headed to FABTECH 2015 next month? Do you need surface finishing and deburring solutions? Don't wait until you arrive to plan your time on the tradeshow floor.
Request a meeting with Brush Research Manufacturing (BRM) in Booth #N-10088 at Chicago's McCormick Place from November 9 to 12, 2015. Here's what to expect when you meet with the BRM Team.


Flexible Honing Tools and Industrial Brushes

FABTECH 2015 is where you'll see industry-leading Flex-Hone® tools for inner diameter (ID) deburring and surface finishing. You'll also find NamPower nylon abrasive brushes for outer diameter (OD) operations, and BRM's mini-brush kits for cross-hole deburring.
As a full-line supplier of flexible honing tools and industrial brushes, Brush Research has the solutions that you need. Since 1958, we've been manufacturing premium-quality brushes in Los Angeles, California USA. Meet us in Chicago next month to learn more.
Flex-Hone® Tools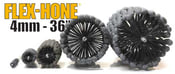 Visitors to the BRM Booth at FABTECH will learn how the Flex-Hone® tool, our flagship product, removes burrs and improves ID surface finish at the same time. Abrasive globules provide a soft cutting action, and the metal mounting stem supports the ball hone's use with handheld power tools and production machinery.
Flex-Hone® tools are available in a variety of tool diameters, abrasive types, and grit sizes. They don't require any special training or instruction, and are readily available through BRM's distributor network and website. Would you like to learrn more? Request a meeting with BRM at FABTECH.
NamPower Nylon Abrasive Brushes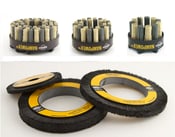 NamPower technology removes burrs, blends edges, and improves OD surface finish. These high-performance industrial brushes work harder and last longer so that you can automate operations and improve part quality and part consistency.
As you'll see at FABTECH, the NamPower family is large, strong, and growing.
New NamPower mini disc brushes provide greater versatility in harder-to-reach areas, smaller applications, and planetary head mountings. New NamPower diamond wheels feature sturdy composite hubs and long-lasting diamond abrasive filaments for edge radiusing on harder materials.There are plenty of other great NamPower tools, too. Meet BRM at FABTECH to learn more.
Miniature Brushes and Mini-Brush Kits

Small holes don't have to mean big problems for metal fabricators and manufacturers. BRM's miniature stainless steel brushes for cross-hole deburring won't remove the base material or become clogged with particles and debris.
These miniature brushes are also cost-effective because 12 of them now come in a special kit. Easy-to-use and corrosion-resistant, it's another great solution from Brush Research, your full-line supplier of flexible hones and industrial brushes. Meet us at FABTECH to find your solution.
Bring a Part, Get a Bag, Find What You Need

When you meet with BRM in Booth #N-10088, you'll also receive a high-quality tradeshow bag - a convenient way to carry product information as your travel the show floor. So look for our literature, including full-color brochures and technical books.
The BRM Booth at FABTECH is also the place to see videos of our products in action, and to tak to our experienced Technical Team. Bring us your parts or drawings, and we'll recommend the right surface finishing solution for your specific application.
Meet BRM at FABTECH 2015 (Booth #N-10088)
FABTECH lasts three days and covers 550,000 net square feet. Don't wait until you arrive to plan your time there. Request a meeting with BRM today. Booth #N-10088 is where you'll find the tools and technologies that you need.