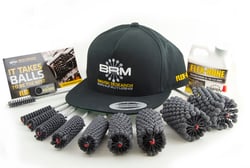 Brush Research Manufacturing (BRM), inventors of Flex-Hone® technology, is now offering a special 10-piece kit that's ideal for automotive applications such as brake calipers, lifter bores, and U-joint yokes. Because flexible honing provides a superior surface finish with an oil-holding cross-hatched pattern, BRM ball hones are a great choice for bearing and bushing applications, too.
Trusted by professional mechanics and hobbyists alike, Flex-Hone® tools feature abrasive globules that provide a soft, cutting action. BRM supplies flexible hones for cylinders of any size or type, but users now have a way to get a range of silicon carbide (SC) tools in one convenient kit. BRM's special 10-piece kit also includes Flex-Hone® oil, how-to videos and instructions for use, and a premium BRM baseball cap.
Flex-Hone® Tools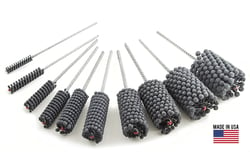 BRM's new Flex-Hone® kit includes 10 SC ball hones in sizes ranging from 10 mm to 2". Silicon Carbide abrasive is a great choice for cast iron, mild steel, and stainless steel – metals that are used commonly in automotive cylinders.
To produce a soft cutting action, BRM's Made in the USA Flex-Hone® tools are always used in an oversized condition. This means that a flexible cylinder hone for a 2" bore has a tool diameter that's slightly greater than 2".
All of the small-diameter tools in BRM's 10-piece Flex-Hone® kit use 180-grit SC abrasive for removing torn, cut, and folded metal that can impede performance. Flex-Hone® tools also remove burrs from cross-drilled holes and break the "glaze" that can form on cylinder walls. The sizes of the Flex-Hone® tools in BRM's general automotive kit are 10 mm, 1/2", 5/8", 3/4", 7/8", 1", 1-1/4", 1-1/2" 1-3/4" and 2"
Flex-Hone® Oil Plus added Value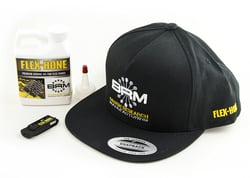 BRM's Flex-Hone® kit also includes a 1/2-pint of Flex-Hone® oil, our special blend of honing and lapping oils for superior surface finishing and longer ball hone life. Unlike other lubricants, Flex-Hone® oil contains these ingredients:
Lard oil to prevent galling
Moisture dispersant
Non-ionic surfactant wetting agent to ensure complete surface lubrication
Special additive to keep cutting and contaminants in suspension
Emulsified, anti-bacterial agent
BRM's 10-piece Flex-Hone® kit also includes a flash drive with how-to videos and instructions for use. As an added bonus, we're including our premium BRM baseball cap so you can hone in style. To place your order, visit the Flex-Hone Kits & Accessories page on the BRM website and specify the BC 10-Piece Flex-Hone® Kit. You can also contact our Technical Team for more information.