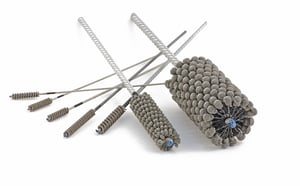 Flex-Hone® tools remove burrs and improve surface finish at the same time. Made in the USA by Brush Research Manufacturing (BRM), these flexible cylinder hones are trusted by metalworkers, machinists, and manufacturers alike.
BRM ball hones are used in a wide variety of industries, and can help solve your own surface finishing and deburring challenges. Flexible hones come in wide variety of abrasive types and grits, but tool diameter also drives Flex-Hone® selection and use.
Tool Diameter and
Flex-Hone® Selection
BRM supplies standard Flex-Hone® tools for bores with diameters as small as 4 mm to as large as 36". To produce a soft cutting action, these metalworking tools are always supplied and used in an oversized condition. For example, a flexible hone for a 3" bore has a tool diameter that's slightly larger than 3". If a cylinder's bore is between two Flex-Hone® sizes, then select and use the larger-diameter product.
Once you've chosen the right ball hone for your application, it's important to understand the relationship between tool diameter and use.
Recommended Speeds and Stroke Rate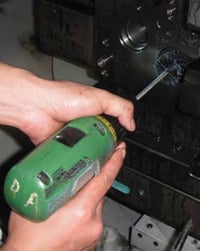 Tool diameter is important because it helps determine the recommended RPMs for flexible honing. The Flex-Hone® Resource Guide provides general speed ranges, but customers should perform machine trials to test their own equipment against our guidelines. The Flex-Hone® is a low RPM tool, but speed is a function of tool diameter.
Remember these rules about Flex-Hone® speeds:
Larger tools run at slower speeds.
Smaller tools run at faster speeds.
Tool diameter also affects another important operating parameter: stroke rate. This is the number of inches per minute (IPM) that are fed or stroked during flexible honing operations. Depending upon your Flex-Hone® configuration (e.g., handheld electric drill or CNC machine), stroke rate is controlled by machine parameters or by a human operator.
Stroke Rate and Cross-Hatch Angle
Flex-Hone® tools improve surface quality by imparting a uniform, cross-hatch pattern that promotes oil retention. The angle at which cross-hatch lines intersect can vary, and is a function of Flex-Hone® stroke rate. In other words, stroke rate determines whether users produce 20° to 23° or 45° cross-hatch angles.
This table shows the relationship between stroke rate and cross-hatch angle.
| | |
| --- | --- |
| To achieve this type of cross-hatch angle | Use this type of stroke rate |
| Smaller | Lower |
| Higher | Larger |
Tool diameter is also related to stroke rate and cross-hatch angle. As a rule, smaller-diameter Flex-Hone® tools require faster stroke rates to achieve the same cross-hatch angle as larger-diameter tools.
The following table explains by listing recommended stroke rates for a 45° cross-hatch angle.
| | | |
| --- | --- | --- |
| Flex-Hone® tools with these diameters | Need this stroke rate (recommended) | To achieve this cross-hatch angle |
| Small | 250 IPM | 45° |
| Large | 100 to 120 IPM | 45° |
Find Flex-Hone® Tools at IMTS 2016
Are you headed to IMTS 2016 this September? Then request a meeting with BRM's Technical Team to learn more about Flex-Hone® technology. Can't wait for IMTS? Not headed to show in Chicago. Then download the Flex-Hone® Resource Guide today. This free, full-color guide contains what you need to know about Flex-Hone® selection and use.