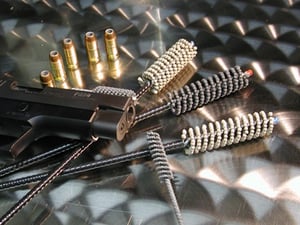 Handgun maintenance helps keep revolvers and pistols at peak performance. Handgun cylinders need a smooth, clean finish that's free from build-ups of primer, gun powder, and ammunition casing materials. Tool marks that can promote fouling and corrosion also require removal.
Flex-Hone® for Firearms tools remove surface irregularities and impart a surface finish that holds lubrication better. Smoother, cleaner cylinders are less prone to misfeeds, stove pipes, and misfires. Plus, BRM's gun tools keep the bores of your firearms at the precise dimensions required.
How can Flex-Hone® for Firearms tools help solve your handgun maintenance challenges? As owners of M1911 and M1917 handguns attest, flexible honing gets great results.
M1911 Handgun Maintenance
1911 Forum.com is a website that's dedicated to discussions about the Model 1911 (M1911), a semi-automatic pistol that's chambered for the .45 ACP cartridge. In a thread called How to Polish MSH Tunnel, the owner of a Springfield asked for advice about polishing the main spring housing (MSH). As another member explained, "You can use a Flex-Hone for smoothing and polishing the interior".
Flex-Hone® for Firearms tools for the M1911's MSH feature silicon carbide (SC) abrasive and are available in a choice of grit sizes. As the forum member who recommended BRM's gun tools explained, "Flex-Hone oil should be used." By following some simple best practices, the shooter continued, "these devices work very well . . . and I have used them with great success for quite some time."
M1917 Handgun Maintenance
Flex-Hone® for Firearms tools also received a shout-out from a gunsmith in Arkansas who needed to repair a Model 1917 (M1917) Colt .45 Auto Rim/ACP. The badly-damaged revolver, the gunsmith noted in a comment on a BRM blog post, required the use of a chamber reamer that left tool marks. That's when this Flex-Hone® for Firearms user tried a medium-grit hone followed by a fine-grit hone.
"Great tools," the Arkansan said of BRM's Made in America products. After the M1917 chambers were honed, they extracted cleanly after firing. "When you need to clean up those little problems, you have a great tool family to use," the gunsmith told BRM. "Not many tools can be as flexible (pun intended) or easy to use".
Find the Gun Tools You Need
This week, BRM is at the SHOT Week Supplier Showcase, a two-day event (January 22 and 23, 2018) that includes the first full day of SHOW Show 2018. If you can't meet us in Las Vegas at Booth S1215, you can still learn more about our Made in USA gun tools. The best way to start is by downloading the Flex-Hone® for Firearms brochure.