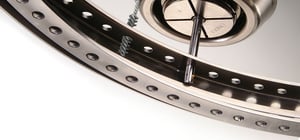 Part manufacturers use a variety of methods to produce through-holes for fasteners. For example, in the aerospace industry, techniques such as drilling, milling, and reaming are used with metals such as nickel, Inconel, Waspalloy, titanium, and stainless steels. Unless these hole-drilling and edge-breaking processes are performed perfectly, however, machined parts may not meet demanding aerospace specifications.
Manufacturers in the automotive and semiconductor industries also face challenging requirements for surface quality. To produce through-hole surfaces that are chamfered, free of burrs, and have radiused edge transitions, metalworkers need to select and use the best surface finishing and deburring tools. For final parts deburring and finishing, industry leaders trust the Flex-Hone® for Chamfer Blending.
Made in the USA Metalworking Tools
The Flex-Hone® for Chamfer Blending is a Made in the USA metalworking tool that blends and radiuses sharp edges while removing micro-burrs on chamfered holes, thus eliminating stress risers. In addition to polishing and radiusing the outer corners (i.e., the intersection of the chamfer and the flange face), this metalworking tool improves the finish of inner corners while reaching the chamfer on the back side.
Abrasive and Grits for Chamfer Honing
Built with Flex-Hone® technology, the Flex-Hone® for Chamfer Blending is made by Brush Research Manufacturing (BRM) and features abrasive globules or balls that are permanently laminated to flexible nylon filaments. The base material determines the abrasive to select, and the amount of work to perform determines which grit size to use. As this brochure explains, silicon carbide (SC) in 180-grit is standard.
Chamfer Hone Sizes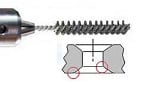 BRM's chamfer hones are available in a variety of bore sizes (4 mm to 1") and are designed to be used in an oversized condition. If a bore is between two tool sizes, then choose the next larger tool. The degree of oversize creates a soft cutting action, producing just the right amount of pressure against the cylinder wall while leaving the base metal undisturbed.
Tool Sizes and Chamfer Sizes
In addition to abrasive type, grit size, and bore size, the Flex-Hone® for Chamfer Blending is specified by chamfer size. Each tool diameter is designed to cover three ranges of countersink sizes: .005 to .015 (per side), 0.15 to .030 (per side), and .030 to .050 (per side). By using the Flex-Hone® for Chamfer Blending to automate final deburring operations, manufacturers are saving time and money.
Find Flex-Hone® Tools at IMTS 2016
Are you headed to IMTS 2016 next month? Request a meeting with the BRM Technical Team to learn more about chamfer honing for consistent finishes from hole-to-hole and part-to-part. Can't wait for the International Manufacturing Technology Show (IMTS)? Not headed to Chicago for this industry-leading event? Then watch this short video and download the Flex-Hone® for Chamfer Blending brochure for more information.