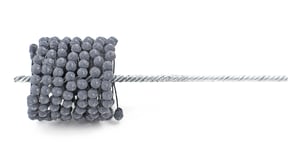 Some drag racers tune or rebuild OEM engines. Others install aftermarket powerplants like the Chevy LSX, a cast-iron racing block with engine displacements ranging from 364 to 511 cubic inches. Built for serious horsepower (hp), the LSX can support over 2,000 hp in forced induction applications. Perhaps not surprisingly then, this replacement engine was designed with some help from drag racing legend Warren Johnson, the winningest driver ever in the National Hot Rod Association (NHRA) Pro Stock class. Today, high-compression bowtie blocks like the LSX454R deliver a whopping 770 hp.
Recently, an engine mechanic messaged us on Facebook with questions about flexible honing for LSX engines. The automotive aftermarket has sold this high-performance powerplant since 2007, so we're not sure whether the mechanic planned to rebuild a block or install a brand-new crate engine. Either way, the mechanic knew that the Flex-Hone® from Brush Research Manufacturing (BRM) imparts a surface finish that improves lubrication and reduces engine wear. The BRM technical team answered the mechanic's questions, suggested the right Flex-Hone® tool, and now shares some tool selection tips with you.
Bore Diameter and Tool Diameter
The engine mechanic's first question was about tool diameter. The bore size for LSX cylinders is 3.780", but BRM doesn't make engine hones in that size. So the mechanic asked if he should use a 3-3/4" Flex-Hone® instead. As our technical team explained, flexible hones should be used in an oversized condition. In other words, the right Flex-Hone® for a cylinder will have a tool diameter that's larger – not smaller – than the bore diameter. Consequently, we recommended a Flex-Hone® tool with the next largest available diameter (4-1/8") for the 3.780" bore.
This lesson doesn't just apply to LSX engine owners. Whenever the bore size is between two Flex-Hone® sizes, make sure to order and use the larger-diameter flexible honing tool. Then, refer to the Flex-Hone® Resource Guide for general speed rages. Remember to perform your own machine trials, too. As a rule, larger-diameter tools run at slower speeds and smaller-diameter tools run as faster speeds. Smaller-diameter tools also require faster stroke rates to achieve the same cross-hatch angle as larger-diameter tools. By imparting a cross-hatch angle that's uniform, flexible honing helps improve engine lubrication.
Abrasive Types and Grit Sizes
Tool diameter is important, but it's not the only product specification that Flex-Hone® users need to consider. BRM's flexible cylinder hones consist of abrasive globules that are permanently bonded to flexible nylon filaments. Because these filaments bend, a flexible hone can be used in an oversized condition. Yet it's the abrasive balls or globules that provide the soft cutting action that removes torn, cut, folded, or jagged metal. In addition to tool diameter, users need to specify the right abrasive for the base material. Grit size is also important to the final finish.
As the LSX engine mechanic told us, he planned to use piston rings made of molybdenum. When used with engine cylinders that are properly surface finished, moly rings retain a small amount of engine oil for better sealing and less friction. To impart this optimum surface finish then, BRM recommended the 4-1/8" GB41832 Flex-Hone® with silicone carbide (SC) abrasive and 320 grit. Like other types of Flex-Hone® tools, GB series tools can be ordered via the BRM website.
Learn More. Get the Guide.
Do you have questions about how to select and use the right Flex-Hone® tool for your engine rebuild or new crate engine? Download the Flex-Hone® Resource Guide to learn more, and contact BRM with your questions.