The 1959 Cadillac is prized for its sharp tailfins, distinctive roofline, and decorative front grille. Under the hood, a massive V8 engine came standard in models like the Cadillac Eldorado and the Cadillac Deville.
Today, classic car buyers are restoring auto bodies and engine blocks on these personal luxury cars. For engine restoration specialists, the Flex-Hone® from Brush Research Manufacturing (BRM) is the ideal tool for finishing the engine cylinders. The story that follows explains.
Cylinder Surface Finish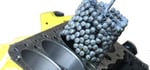 Earlier this year, a blogger at '59 Cadillac Flat Top Fin Monster described the Flex-Hone® tool as "the final piece of the puzzle" for his engine rebuild. Unlike rigid hones, BRM's Flex-Hone® imparts a final finish that's free of high, sharp peaks. By rounding and reducing these peaks to a consistent height, flexible honing supports proper piston ring seating and sealing. Flex-Hone® tools also create oil-retaining valleys with a uniform, cross-hatch pattern for optimum lubrication and reduced engine friction and wear.
engine hone Selection and Use
Flexible honing doesn't require special training or instruction, but it's important to follow some general guidelines for tool selection and use. As the Flex-Hone® Resource Guide explains, BRM's engine hones are low RPM tools. For example, flexible cylinder hones with tool diameters between 4" and 7.5" are usually run at speeds between 350 to 600 RPM. Typically, mechanics chuck the Flex-Hone® in a handheld power tool such as an electric drill and then stroke the cylinders.
Speed, Power, and Stroke Rate

As the engine builder explained, the cordless drill he started with "didn't have enough power to spin the hone fast enough." After switching to a corded power drill, however, "things got more exciting".
Wisely, the engine mechanic adhered to BRM guidelines for stroke rate, which is a function of Flex-Hone® diameter, stroke length, and cross hatch angle. As the Flex-Hone® Resource Guide explains, higher crosshatch angles require faster stroke rates.
Tool Lubrication
Importantly, the engine rebuilder also lubricated the Flex-Hone® generously and rotated the tool prior to entering each engine cylinder. For best results, BRM recommends the use of a high-quality honing fluid like Flex-Hone® Oil to prevent tool loading and ensure the exposure of fresh cutting particles. We're not sure which type of honing oil the blogger used, but his decision to hang some makeshift curtains confined any oil splatter.
Cylinder Wash Brushes
The Cadillac blogger also followed BRM's best practices for engine block cleanup. "Brush Research recommends cleaning the bores with soap, water, and a bristled brush to make sure you get all of the grit out of the bores," he explained.
BRM's cylinder wash brushes are an especially good choice for the efficient cleaning of cylinder walls after flexible honing. Made with 6-12 nylon, these high-quality brushes are available in different diameters and used with detergent and warm or hot water.
Drying and Oiling the Cylinders
After cleaning the engine cylinders, BRM recommends wiping them dry with a clean cloth or towel. The blogger from '59 Cadillac Flat Top Fin Monster tried a different technique, but seemed satisfied with the results. To dry the entire engine block quickly, he used a vacuum cleaner as a blower. Finally, before calling engine honing complete, BRM recommends lightly oiling the cylinders to prevent rust.
Get the Flex-Hone® Resource Guide
Would you like to learn more about best practices for flexible cylinder honing? Even if you don't own a 1959 Cadillac, the Flex-Hone® Resource Guide has the information you need. Download your copy today.