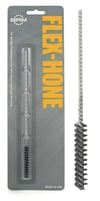 Engine valves control the flow of fluids and gases in automotive engines. If engine valves fail, the consequences can range from reduced engine power to heat-related part failure. Engine problems can also occur when valve seats, the surfaces against which engine valves rest, lack proper lubrication. Inadequate lubrication increases friction, and friction can cause related engine parts called valve stems to fail.
In automotive engines, each intake valve and exhaust valve consists of a cylinder-shaped valve stem and a rounded valve head. Like the engine cylinders in an engine block, valve stems need an oil-retaining surface finish. That's true for used valve stems that have become worn, and for new valve stems that lack an optimum finish. For these and other surface finishing challenges, the solution is flexible honing.
Why Engine Mechanics Like Flex-Hone® Tools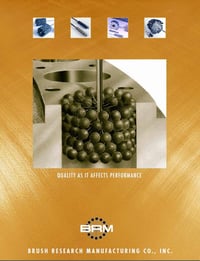 In Quality As It Affects Performance, a free technical book from Brush Research Manufacturing (BRM), the maker of the Flex-Hone® tool describes flexible honing for engine valve stems. By imparting a cross-hatch pattern of oil-retaining grooves, flexible cylinder hones promote lubrication and help reduce friction and wear. Ball hones, as these engine tools are also known, also remove cut, torn, and folded metal.
Flex-Hone® tools are available in numerous abrasive types and grit sizes for a variety of surface finishing and deburring challenges. Their abrasive globules or balls are permanently bonded to flexible nylon filaments and provide a soft cutting action. Flex-Hone® tools are used with handheld power tools and automated equipment, and require no special training or instruction.
Engine mechanics like how Flex-Hone® tools mount in electric drills and are self-centering and self-aligning to the bore. BRM ball hones are self-compensating for wear, too. In addition to engine cylinders and engine valve stems, Flex-Hone® tools are great for automotive projects with valve guides, valve bodies, brake cylinders, crank bores, connecting rods, and piston pin bores.
How to Surface Finish Engine Valve Stems
In Quality As It Affects Performance, the valve stem example offers an excellent case study in flexible honing. The intake and exhaust valves that BRM purchased at an auto parts store had "no particular surface pattern to hold or retain or spread oil," the technical book explains, and "the heat and friction can only be imagined".
The valve guide and the valve stem would probably "rub against each other at perhaps 50 times or more per second," the technical guide continues, even after the parts "mated" by wearing down each other. By using a 240-grit boron carbide Flex-Hone®, however, the valve stem's indeterminate surface pattern was improved to an optimum oil-retaining finish.
Get Quality As It Affects Performance
Images from a scanning electron microscope (SEM) provide before and after proof of this dramatic improvement in magnifications of 100X and 1000X. See the results for yourself. Download Quality As It Affects Performance and turn to page 22. This technical book also shows how flexible honing improves the surface finish of auto parts such as shafts and master cylinders.