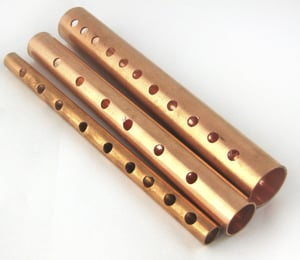 Most machined holes are produced by drilling, a cutting process that creates cross-sections for inserting fasteners or other machined parts. Drilling is fast, simple, and cost-effective, but this machining method can produce burrs, raised edges or small, sharp pieces of material that remain attached to the workpiece.
With metal parts, burrs can cause problems such as part misalignments, excessive stress concentrations, and inaccurate dimensional measurements. These surface irregularities can also result in cut wires or damaged rubber seals, clogged filters and ports, and reduced fatigue limits.
Today, most applications require burr-free components. Various deburring tools are available, but Flex-Hone® technology from Brush Research Manufacturing (BRM) provides important advantages. BRM's flexible, resilient honing tools deburr and surface finish parts at the same time. Flex-Hone® technology also combines ease-of-use with support for both manual and automated deburring.
Manual Deburring and Automated Deburring
Deburring, the process of removing burrs from workpiece surfaces, is a critical post-machining operation for ensuring part functionality. Historically, manufacturers and machine shops have performed deburring operations with hand tools. Manual deburring is still common, but some companies are now using automated deburring methods that involve CNC machining centers and robotic cells.
Because they're versatile, BRM Flex-Hone® tools mount in most any type of rotating spindle. Examples include handheld electric drills, drill presses, and semi-automatic and automatic production equipment. The deburring tool's metal stem comes ready-to-mount, but it's the ball hone's distinctive construction that combines ease-of-use with superior performance.
Ball Hones for Efficient Deburring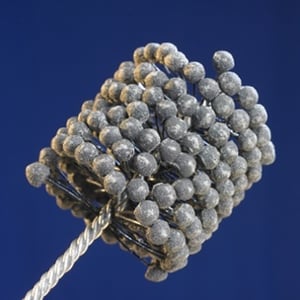 Flex-Hone® tools feature abrasive globules or balls that are permanently laminated to flexible nylon filaments. Always used in an oversized condition, BRM ball hones are self-centering, self-aligning the bore, and self-compensating for wear. Flex-Hone® tools do not require any special training or instruction, but users are encouraged to follow the best practices described in the Flex-Hone® Resource Guide.
Manufacturers and machinists also need to know that flexible honing isn't a heavy-duty material removal process. Rather, flexible cylinder honing removes cut, torn, folded, and jagged metal (burrs) while imparting a superior surface finish that supports optimum lubrication and reduced friction and wear
How to Select and Use Flex-Hone® Tools
Standard Flex-Hone® tools come in 8 different abrasive type and 11 grits. The base material workpiece determines which Flex-Hone® abrasive to use. The amount of work to perform and the degree of surface improvement that's required determine the grit selection. Flex-Hone® tools are produced in standard diameters from 4 mm to 36", and are low RPM tools.
Are you ready to learn more about flexible honing for drilled holes? Download the Flex-Hone® Resource Guide to get started.