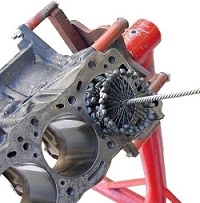 Flexible honing for engine cylinders imparts a plateau finish that optimizes lubrication and reduces friction and wear. Flexible cylinder honing also removes cut, torn, and folded metal that can interfere with the operation of mechanical components such as piston rings. By removing burrs, imparting a series of oil-retaining grooves, and reducing raised areas to a uniform height, BRM Flex-Hone® tools impart the ideal surface finish. Two automotive application guides explain the benefits of flexible cylinder honing for the automotive aftermarket.
Flexible Honing for Engine Preparation
Kart racers drive small, four-wheeled vehicles that can achieve speeds in excess of 150 mph. Two-cycle kart engines are available, but many racers prefer four-cycle powerplants like the Briggs & Stratton L Head and OHV Animal. When Jimmy Glenn, a championship engine builder and technical inspector for National Karting Events, prepares a Briggs & Stratton engine for kart racing, he uses Flex-Hone® tools for cylinder honing. As Glenn explains in the 4-Cycle Kart Engines application guide, flexible honing is "integral" to kart engine preparation. "Always use the premiere BRM hones," he adds.
With both the Briggs & Stratton L Head engine and the OHV Animal, Glenn uses a 320-grit aluminum oxide Flex-Hone® to impart a final finish to the aluminum bores. "For rebuilds on either engine," he explains, "a quick honing with the appropriate grit will bring the cylinder back into optimum condition for a new piston/ring set." The BRM application guide describes Jimmy's Glenn's tips and techniques, and also explains how the author of "Building a Race Ready 5HP Briggs" uses ball hones with carburetor bores, valve guides, and other engine parts.
Flexible Honing for Engine Remanufacturing
Remanufactured engines aren't just re-machined. They're restored to precise mechanical tolerances and original equipment manufacturer (OEM) specifications. For engine remanufacturers like RMP Powertrain Solutions, a division of the Holman Automotive Group, imparting the ideal surface finish is essential. Cylinder walls with cut, torn and folded metal can prevent proper piston ring and sealing – and even cause engine failure. Flexible honing removes surface imperfections, and imparts a plateau finish for optimum lubrication.
RMP uses a rigid honing machine after engine cylinders are bored, but trusts BRM Flex-Hone® technology to impart the final surface finish. As the Automotive Engine Rebuilder application guide explains, the New Jersey-based engine remanufacturer "has been able to maintain high quality standards at minimal cost". By stroking each cylinder just a few times, operators reportedly finish as many as 60 engines per Flex-Hone® tool. For RMP's customers, the benefits include faster break-in times and reduced blow-by.
Learn More About Flexible Honing for Engines
Would you like to learn more about flexible honing for engine rebuilds? From case studies and brochures to how-to-videos and technical books, BRM provides the information you need in a variety of formats. Visit our website to find these and other resources. As a full-line supplier of surface finishing and deburring solutions, we have the tools, technology, and application experience that you need to make your next engine rebuild a success.