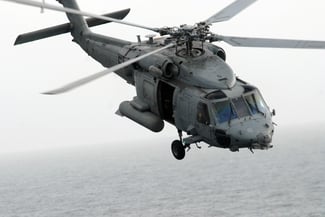 Aerospace components such as helicopter rotor drive shafts need to meet demanding surface finish requirements. To reduce friction, a thin film of lubricant must be maintained between moving parts. If surface finishing fails to remove significant surface irregularities, this oil film may be penetrated. Sharp surface irregularities can also promote fatigue cracking.
Aerospace cylinders require a substantially smooth, burr-free surface finish, but not so smooth that lubrication can't adequately adhere to cylinder walls. Ideally, these machined cylinders need a series of uniform peaks and oil-retaining valleys. Known as a plateau finish, this cylinder surface finish supports proper wear-in and expected service life.
Plateau Finishing with Flex-Hone® Tools
Brush Research Manufacturing (BRM), maker of the Flex-Hone® tool, pioneered plateau finishing and has extended its applications to the aerospace industry. In Future in Finishing, a downloadable white paper, BRM provides real-world examples of how aerospace companies are using flexible cylinder honing to solve surface finishing and deburring challenges.
Built with distinctive abrasive globules that are permanently laminated to flexible nylon filaments, Flex-Hone® tool is self-centering, self-aligning to the bore, and self-compensating for wear. The plateau finish that flexible honing imparts improves lubrication and reduces friction and wear. As BRM's aerospace white paper explains, Flex-Hone® applications include helicopter rotor drive shafts.
Surface Finishing For Helicopter Rotor Drive Shafts
When a helicopter drive shaft manufacturer needed to meet a difficult surface finishing challenge, BRM Flex-Hone® technology provided the right solution. Prior to heat treating, the drive shaft's inner diameter (ID) finish was marginal at best. After the final heat-treat process, the manufacturer noticed an excessive build-up of mill scale, which can flake-off and contaminate lubricants.
Because the ID of the helicopter rotor drive shaft was contoured, a very flexible finishing tool was required. The aerospace manufacturer used three BRM Flex-Hone® tools, each in 400-grit boron carbide but in three different sizes. After flexible cylinder honing, the surface of the drive shaft was free of mill scale. Moreover, the manufacturer reported a 300% improvement in surface finish.
BRM's surface finishing solution provided other benefits, too. Unlike rigid honing machines, flexible honing tools don't require in-depth setups or specialized training or instruction. Flex-Hone® tools also provide consistent, repeatable surface finishing among operators and across shifts. Today, flexible cylinder honing is an integral part of the aerospace manufacturer's production process.
Find Your Future in Finishing
Do you need surface finishing and deburring tools for aerospace components such as helicopter drive shafts? BRM Flex-Hone® tools are available in a variety of abrasive types, including diamond abrasive for harder materials such as carbide, ceramic, and aerospace alloys. If you're ready for the future of finishing, the time to learn more is now. Download the Future in Finishing white paper to get started.