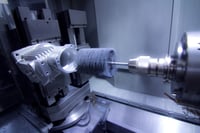 Are you an industrial manufacturer who wants to improve part quality while saving time and money? Flex-Hone® tools improve cylinder-wall surface finish and remove burrs at the same time. Designed for inner diameter applications (ID), flexible cylinder hones from Brush Research Manufacturing (BRM) remove cut, torn, and folded metal (burrs). Flex-Hone® tools also impart an oil-retaining plateau finish that promotes lubrication and reduces friction and wear in any type or size cylinder.
Flex-Hone® Features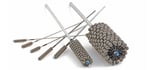 Flex-Hone® tools are made with abrasive globules that are permanently laminated to the ends of flexible, long-lasting, heat-resistant, nylon filaments. BRM's flexible cylinder hones aren't designed for heavy-duty material removal, but for improving surface condition and imparting a final finish. Depending on the base material of your work piece, choose from 8 different abrasive types and 11 grit sizes. Flex-Hone® tool diameters range from 4mm to 36", and BRM ball hones are specified in an oversized condition.
Manufacturers like flexible honing tools because they don't require any special training or instruction. The Flex-Hone® Resource Guide provides suggested operating parameters, but BRM ball hones are self-centering, self-aligning, and self-compensating for wear. With their metal stem, Flex-Hone® tools are also easy-to-mount and support quick tool changes. Manufacturers can use flexible hones with handheld tools such as electric drills, and with lathes, milling machines, CNC equipment, and other production machinery.
Flex-Hone® Benefits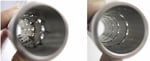 Flexible honing promotes cylinder life by optimizing lubrication and reducing friction and wear. The burr-free plateau finish that Flex-Hone® technology imparts also reduces oil consumption, improves piston ring seating and sealing, and helps to prevent part misalignments.
Manufacturers can use flexible honing tools to surface finish space age alloys, aerospace alloys, ceramics, and materials that other deburring tools just can't handle. With the variety of grits available (from coarse to super fine), Flex-Hone® tools can acheive very specific finishes for even tightest of finishing tolerances. Are you interested in acheiving a final finish in the single Ra range? A Flex-Hone® can do it! Proven yet innovative, Flex-Hone® technology is the industry standard.
Whether it's Monday morning or Friday afternoon, flexible cylinder honing also ensures the consistent surface finishing and deburring of bores. By automating finishing and burr-removal operations in a single set-up, manufacturers can eliminate time-consuming tasks that typically occur off-line. Yet BRM ball hones are factory-flexible, too. Manufacturers can use Flex-Hone® tools in handheld power tools for low-volume runs, and use Flex-Hone® technology in machinery to improve cycle times on higher-volume runs.
The choice is yours!
Watch the Flex-Hone® In-Machine Video
Ready to learn more about flexible honing for industrial manufacturers? See how you can automate your finishing and deburring operations in a single setup. Watch the Flex-Hone In-Machine Setup Video and learn how leading manufacturers are using flexible cylinder hones to remove burrs from cross-drilled holes and to blend-in radiused ports. You'll also see how the BRM Flex-Hone® in a machining center can remove burrs and improve the finish uniformly, efficiently, and cost-effectively.