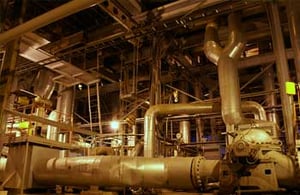 Maintenance personnel in the processing industries need to remove rust, corrosion, accumulated chemicals, and biological matter from the bores of large pumps and valves. In petrochemical plants, refineries, and wastewater processing facilities, the accumulation of wax, clay, silt, or other debris can impede performance, block lubrication, and reduce service life.
Rebuilding and servicing large pumps and valves isn't just a matter of cleaning them, however. The bores of these cylinders require tight tolerances. Proper surface finishing and burr removal are required, but with a minimal amount of inner diameter (ID) material removal. Ease-of-use is important, too. For large pumps and valves, the right choice is the BRM Flex-Hone® tool.
Flex-Hone® Advantages
Made in the USA by Brush Research Manufacturing (BRM), the Flex-Hone® cleans the bores of large pumps and valves while imparting a controlled surface condition that's unobtainable by any other method. The super-smooth, burr-free surface finish that flexible honing provides also keeps bores at the precise dimensions required. BRM Flex-Hone® tools are portable and efficient, too.
Flex-Hone® tools or ball hones, as these surface finishing and deburring tools are sometimes called, feature abrasive globules that are permanently bonded to flexible nylon filaments. Because each abrasive globule has an independent suspension, Flex-Hone® tools are self-centering and self-aligning to the bore. They're self-compensating for wear, too.
How to Select and Use Flexible Hones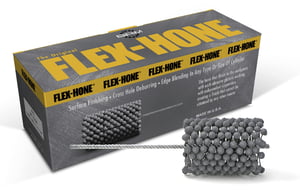 Flexible cylinder hones are available for any type or size cylinder – including the bores of large pumps and valves. BRM ball hones come in 8 different abrasive types and 11 different grit options for use with a wide variety of base materials and surface finish requirements. For complete information about abrasive and grit selection, download the Flex-Hone® Resource Guide.
This free, technical book from Brush Research Manufacturing (BRM) also describes common setups and power requirements for flexible cylinder honing. BRM Flex-Hone® tools can be used in virtually any rotating spindle, including handheld electric drills. This supports field maintenance operations, which can reduce downtime since pumps and valves aren't sent out to a shop.
Why Ball Hones are Better
In an article in Pumps and Systems magazine, Clarence Mayers of Diesel Supply Company explains why his Odessa, Texas business uses Flex-Hone® Tools from Brush Research Manufacturing. "If a liquid in a pump runs around the piston ring and gets to the back side," Mayers says, "you aren't going to move it – you're just going to thrash it."
The way to prevent this problem, he adds, is to obtain a "smooth surface" that forms "a good seal in the pump cylinder." Other surface finishing tools are available, but the solution Mayers trusts is the BRM Flex-Hone® tool. By "using a flexible ball-style hone," he explains, "you can make that ID smoother than glass".
Learn More. Get the Guide.
Are you ready to learn more about flexible cylinder honing? Do you have questions about ball hone selection and use? The information you need is just a few clicks away. Download the Flex-Hone® Resource Guide.