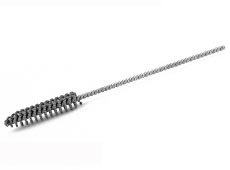 Two success stories show why gunsmiths like Flex-Hone® for Rifles tools.
Hunters, target shooters, and military and law enforcement personnel use a variety of tools for cleaning rifle chambers. Some gun owners use a bore brush or a bore snake. Others wrap a cleaning patch around a gun brush. No matter which method they use, shooters would rather spend time in the woods or at the range than on routine gun cleaning tasks. That's why the Flex-Hone® for Firearms from Brush Research Manufacturing (BRM) includes Flex-Hone® tools for rifle chambers.
Flexible Honing Improves Surface Finish
The Flex-Hone® for Rifles isn't meant for routine gun cleaning, however. Rather, this Made in America gun tool is designed for periodic gun maintenance. By improving the surface finish of your rifle's chamber, flexible honing supports optimum firearms performance. Unlike regular gun brushes, the Flex-Hone® for Rifles removes tool marks, burrs, and other surface imperfections. Importantly, this surface finishing tool also keeps the bores of your firearms at the precision dimensions required.
Professional and amateur gunsmiths also like Flex-Hone® for Rifles tools because they impart a clean, bright finish and are easy-to-use. As this YouTube video shows, you don't need a shop full of expensive equipment – or special training and instruction – to use the Flex-Hone® for Rifles either. Still, there's no substitute for what Flex-Hone® for Firearms users themselves say about BRM's products. Here are two success stories about BRM's rifle chamber hones.
Gun Tools for AR-15 Chambers
AR-15 Building Tools – Part II, an article on the Guns Magazine website, describes what one gunsmith calls "handy" items for AR-15 rifle maintenance. The shooter's list includes rear-sight spring tools, a bolt disassembly fixture, and a front takedown pin detent installer. The gun owner also emphasizes the importance of polishing AR-15 chambers to ensure that spent cartridge cases eject properly. The gun tool that's mentioned by name is the Flex-Hone® for Firearms.
Self-centering, self-aligning to the bore, and self-compensating for wear, Flex-Hone® for Firearms tools are built with abrasive globules or balls that are permanently bonded to flexible nylon filaments. With AR-15 chambers, the Flex-Hone® for Rifles removes residues, machining marks, corrosion, oxidation, and surface imperfections. BRM's rifle chamber hones have a 1-5/8" silicon carbide (SC) abrasive part and come in overall lengths (OALs) of 6, 8, 12, and 14 inches.
Gun Tools for U.S. Model of 1917 Firearms
According to the U.S. War Department's Basic Field Manual of 1942, the chamber of the M1917 Enfield rifle "must be cleaned as thoroughly as the bore" because "a rough chamber may cause shells to stick." The Flex-Hone® for Firearms wasn't invented back then, but that didn't stop a gun blogger from using a modern-day rifle tool with a U.S. Model of 1917 Enfield Rifle. Unable to remove rust and residue with a chamber brush, the gunsmith tried flexible honing.
Later, while updating readers about this firearms restoration project, the gun blogger reported that that the M1917 rifle's rounds now "ejected like butter". Firearms manufacturers often use Flex-Hone® tools with production equipment, but the gunsmith chucked the mandrel of this flexible hone into a handheld electric drill. With the receiver and the chamber clamped in a vice between two wooden blocks, honing the rifle chamber for about a minute did the trick. "This works!!!", the gun specialist explained.
Get the Flex-Hone® for Firearms Brochure
Would you like to learn more about flexible honing for gun maintenance? The Flex-Hone® for Firearms Brochure contains the information that you need, and is available for download.