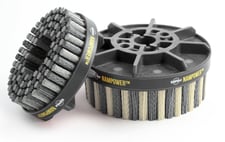 Piston rings are engine components that seal the combustion chamber, transfer heat from the pistons to the cylinder walls, and help regulate oil consumption. To promote engine power and performance, the piston rings and the cylinder wall must form a proper seal. Otherwise, excessive "blow-by" can enter the crankcase. The results can range from power loss to engine damage.
As Performance and Hotrod Business magazine explains, Flex-Hone® tools from Brush Research Manufacturing (BRM) help promote piston ring performance. In an article called "Rings True", automotive writer Ed Sullivan describes how BRM's flexible hones "allow for the fine-tuning of cylinder bores", even in engine blocks made of harder metals that can make piston ring break-in challenging.
Piston Rings and Racing Engines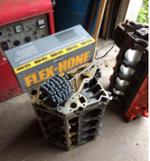 "The piston ring is sort of the poor stepchild of the high-performance engine," says Keith Jones of Total Seal, a Phoenix-based manufacturer of piston ring sets for street racing engines. "They get blamed for just about everything." Without the proper fit between the piston ring and the cylinder bore, Jones explains in "Rings True," blow-by can sideline the kinds of cars used in IRL, NASCAR, and World of Outlaw events.
To promote piston ring seating and sealing, Total Seal uses BRM Flex-Hone® tools. "We recommend this type of hone because it works very well, is easy to use with a hand-held drill motor, and is really foolproof for someone who is not an experienced machinist." Self-centering, self-aligning to the bore, and self-compensating for wear, BRM ball hones can be used with a handheld electric drill.
Performance Racing Meets Flexible Honing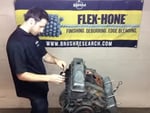 BRM's engine hones are available in 11 different abrasive types and 8 grit sizes. The Flex-Hone® Resource Guide explains how to select and use ball hones, which require no special training or instruction. In addition to promoting piston ring sealing and sealing, the Flex-Hone® tool imparts a uniform series of oil-retaining grooves for optimum lubrication.
For Keith Jones of Total Seal, Flex-Hone® tools in levigated alumina super-fine abrasive are the right choice because these ball hones work well with harder engine block materials. For questions about which abrasive type or grit sizes to use with your engine honing project, just contact the BRM Technical Team. "We provide this type of support all the time," says Michael Miller, BRM's Vice President of Global Sales.
Meet Us in Indianapolis at the PRI Show
Next month, BRM hits the road for the Performance Racing Industry (PRI) tradeshow in Indianapolis. From December 8 to 10, 2016, members of our Technical Team will be in Booth #5513 at the Indiana Convention Center. Will you be at PRI 2016, too? To learn more about Flex-Hone® tools for high-performance engines, request a meeting with Team BRM.