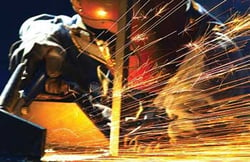 The metal forming, fabricating, and welding industries are facing challenges. According to the October 2015 Business Conditions Report from the Precision Metalforming Association (PMA), one-third of metal forming companies reported declines in daily shipping levels for each of the last six months. Some PMA members are now forecasting a modest increase in orders, but Ohio's Longbow Research predicts that the welding industry will struggle through the end of 2016.
What do these trends mean for your business, and how can surface finishing strengthen your bottom line?
Start with the Finish
To compete and win, companies in the metal forming, fabricating, and welding industries need to do more than increase market share. It's important to control costs by making make the most of your investments in tools and machinery. Metal formers, fabricators, and welders also need to ensure part quality and consistency, especially with regard to the final finish. Metal burrs can cause part misalignments, and a surface finish that isn't optimized for lubrication won't help win the battle against friction and wear.
As a full-line supplier of surface finishing and deburring tools, Brush Research Manufacturing (BRM) has been helping companies in the manufacturing and metal working industries for 57 years. Today, BRM Flex-Hone® tools are the industry standard for removing burrs and improving the surface quality of cylinder bores. For outer diameter (OD) applications, BRM's NamPower technology delivers cost-effective, high-performance results. BRM's industrial brushes can solve challenges such as small parts deburring, too.
Flex-Hone® Tools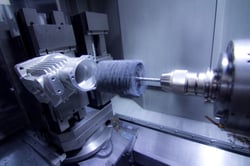 Flex-Hone® tools are flexible, resilient honing tools with a low-temperature, low-pressure cutting action. With their unique construction, BRM's flexible cylinder hones are self-centering, self-aligning, and self-compensating for wear. Each Flex-Hone® tool features abrasive globules that are permanently bonded to nylon filaments. Available in eight abrasive types and 11 grit sizes, ball hones can be used with a wide variety of base materials to achieve specific surface finishes.
Flexible hones are suitable for use with most any rotating spindle, and come in diameters from 4mm to 36". Importantly, BRM's surface finishing and deburring tools require no special training or instruction. Flexible hones can be used with handheld power tools such as electric drills, or (as this video shows) with production equipment such as CNC machine centers. In addition to removing burrs from cylinder bores, flexible cylinder hones impart an oil-retaining finish for optimum lubrication and reduced friction and wear.
NamPower Nylon Abrasive Brushes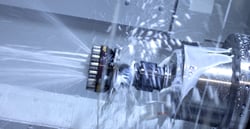 BRM's NamPower nylon abrasive brushes are a family of surface finishing and deburring tools that are designed for use with today's automated machinery. NamPower abrasive disc brushes feature a unique combination of ceramic and silicon carbide abrasive for maximum burr removal rates and an optimum surface finish at the same time. Now available in smaller-diameter sizes, NamPower disc brushes support flow-through cooling for reduced heat and longer life.
To reduce vibrations and machine-spindle bearing wear, larger-diameter NamPower disc brushes can be used with BRM's lightweight tool holders. The NamPower family of products also features abrasive hex-drive tools for full 360° finishing. NamPower composite hub wheel brushes round out this suite of products, and are available with diamond abrasive filaments for harder materials.
Miniature Brush Kits and More
Small holes don't have to mean big problems for metal formers, fabricators, and welders. BRM's miniature stainless steel brushes remove burrs from cross-drilled holes without changing part dimensions. These stainless steel brushing tools are also non-loading, which means that they won't become clogged with particles and debris. Now available in a cost-effective kit of 12 cross-hole deburring brushes, they're the right choice when the holes are small and the expectations for a burr-free finish are high.
Find BRM at FABTECH 2015 (Booth #N-10088)
This week, BRM is at FABTECH, North America's largest metal forming, fabricating, welding, and finishing event. Will you be there, too? If your tradeshow plans take you to Chicago's McCormick Center, be sure to make the most of your time on the FABTECH floor. Visit BRM in Booth #N-10088 from November 9 to 12, 2015. You can also request a meeting in advance with our Technical Team.