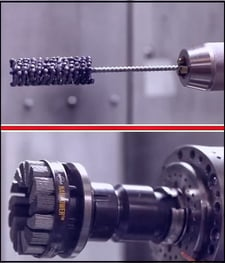 Leading manufacturers are using automated deburring and surface finishing technologies to reduce labor costs, speed operations, and ensure part quality and consistency. Instead of removing burrs off-line during time-consuming secondary operations, these companies are using high-quality metalworking tools with their existing production equipment.
For both inner diameter (ID) and outer diameter (OD) applications, Brush Research Manufacturing (BRM) supplies finishing and deburring tools that support automation. BRM Flex-Hone® tools and NamPower technology are used by large companies in global industries such as automotive and aerospace, but are also a favorite among smaller manufacturers, metalworkers, and machinists who want to automate their deburring and surface finishing operations in a high-performance, cost-effective way.
Flex-Hone® Tools for ID Deburring and Finishing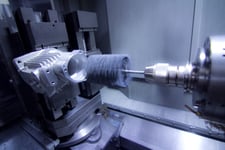 BRM Flex-Hone® tools produce a controlled surface condition that's free of cut, torn, and folded metal. Made in the USA by Brush Research Manufacturing (BRM), these metalworking tools are ideal for any type or size cylinder. Importantly, Flex-Hone® tools remove burrs and improve surface finish at the same time. The plateau finish that these flexible cylinder hones impart aids in lubrication and reduces wear. Applications for flexible honing include cross-hole deburring, parts finishing, and edge radiusing.
Manufacturers, metalworkers, and machinists can use Flex-Hone® tools with drills, lathes, mills, robotic cells, transfer lines, CNC machine centers, and other production equipment. In CNC equipment, these American-made surface finishing and deburring tools mount by means of a Jacobs-type chuck. As the Flex-Hone® In-Machine Setup video explains, automated surface finishing and deburring with Flex-Hone® technology speeds metal finishing operations and can achieve surface finishes down to the single RA level.
NamPower Tools for OD Deburring and Finishing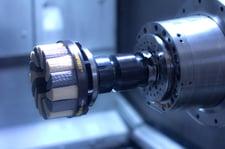 NamPower nylon abrasive brushes are high-performance surface finishing and deburring tools that are ideal for OD applications. As this NamPower video explains, these cost-effective metalworking tools integrate with existing production equipment such as CNC machinery and do not require rigid setups. Applications for NamPower technology include metal finishing prior to plating and deburring after fine blanking, a metal stamping process for achieving part flatness and fully-sheared edges.
BRM's NamPower family of products includes abrasive disc brushes, abrasive hex-drive tools, composite hub wheels brushes, and accessories that support in-machine operations. For example, NamPower lightweight tool holders produce less stress on machine spindle bearings, improve brush performance, and are designed for use with flow-through cooling systems. Arbor adapters for NamPower composite hub wheel brushes increase brush support, reduce brush vibration, and promote longer brush tool life.
Learn More at IMTS 2016 (Booth N-7163)
Are you at IMTS 2016 this week? Then request a meeting with BRM's Technical Team to learn more about how you can automate surface finishing and deburring with Flex-Hone® tools and NamPower technology. Not at the show in Chicago? Then download the Flex-Hone® Resource Guide or the NamPower Resource Guide for more information about these BRM metalworking tools, and contact us with questions about your specific application.