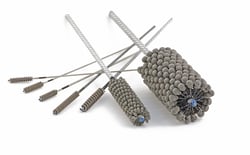 Flex-Hone® tools remove burrs and improve surface finish at the same time. Made in the USA by Brush Research Manufacturing (BRM), these versatile and easy-to-use honing tools are available for any type or size of cylinder.
Standard Flex-Hone® tools include surface finishing and deburring tools for cylinders with inner diameters (ID) as small as 4 mm. In addition to tool size, Flex-Hone® users need to select the abrasive type and grit size. This article explains what you need to know.
How Flexible Honing Works
For starters, Flex-Hone® users need to understand that flexible honing isn't a heavy-duty material removal process. Rather, it's a low-temperature, low-pressure abrading process that imparts an ideal surface finish. Flex-Hone® tools feature abrasive globules or balls that are permanently laminated to flexible nylon filaments. This independent suspension means that BRM ball hones are self-centering and self-aligning to bore, which contributes to their ease-of-use. The flexible hone's metal stem supports its use with handheld power tools or production equipment.
Bore Sizes and Tool Diameters
For Flex-Hone® users, it's important to know that BRM ball hones are always supplied and used in an oversized condition. In other words, a flexible hone for a 4 mm bore has a tool diameter that's slightly larger than 4 mm. What happens when a cylinder's bore size is between two Flex-Hone® sizes then? The answer is simple: choose and use the larger-diameter tool.
BRM supplies smaller-diameter Flex-Hone® in a range of tool diameters.
Both types of Flex-Hone® tools are designed for smaller-diameter cylinders, but tool diameter alone won't help you choose the ball hone that you need.
Abrasive Types
Diamond Flex-Hone® tools are used to surface finish and deburr harder materials. Examples include carbide, ceramic, hardened tool steel, and heat-treated steel. BC series Flex-Hone® tools are used with industrial metals.
As the chart below explains, the base material determines the abrasive type to use.
Use This Abrasive Type

With These Base Materials

Silicon Carbide (SC)

Cast iron

Mild steel

Stainless steel

Aluminum Oxide (AO)

Aluminum

Brass

Bronze

Softer metals

25% Zirconia / 75% Alumina (Z25)

Cast iron

Low carbon steels

Medium carbon steels

Stainless steel

40% Zirconia / 60% Alumina (Z40)

Cast iron

Low carbon steels

Medium carbon steels

Stainless steel

Boron Carbide (BC)

Medium carbon steels

High carbon steels

Heat-treated steels to 50 Rc

Titanium

Tungsten Carbide (WC)

High carbon steel alloys

More exotic space age alloys

Levigated Alumina (LA)

Final polish on many materials

Diamond

Carbide

Ceramic

Hardened tool steel

Heat treated steel
Grit Sizes
In addition to tool diameter and abrasive type, Flex-Hone® users need to specify the grit size. As a rule, two factors drive grit-size selection.
the amount of work to perform

the degree of surface improvement that's requred
There are other factors to consider, too. If the starting finish is course, you may need to use several Flex-Hone® tools with progressively finer grits to meet your final surface finish requirements. For more information about grit selection, tool selection, and Flex-Hone® use, download the Flex-Hone Resource® Guide.