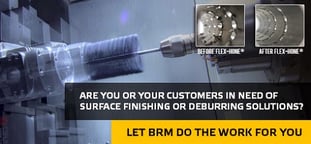 Do you or your customers need solutions to surface finishing challenges? Are you looking for the right tools and technologies to remove burrs and improve surface quality? If you're ready to find answers to your most challenging surface finishing questions, Brush Research Manufacturing (BRM) is ready to help. As a full-line supplier of flexible cylinder hones and industrial brushes, BRM does more than supply products. With our 55 years of experience, we provide technical expertise like you'll get with our Tech Lab program.
The BRM Tech Lab Program
Send us your most challenging part and BRM will evaluate your component for free. As part of our analysis, we'll recommend the right Flex-Hone® tool, NamPower nylon abrasive brush, or other industrial brushing tool for your specific surface finishing and deburring application. Test results typically include photographs and surface profilometer data for your part both before and after finishing. In addition to recommending the right tool for the job, BRM's technical team will provide recommendations about operating speeds.
Surface finishing and deburring challenges can be tough, but getting started with the BRM Lab Program is simple. Just download the BRM Tech Lab form and answer a few questions about your company, your part, and your surface finishing requirements. The form displays right in your Web browser and is a PDF document that's quick and easy to complete. If we need any additional information, such as a sketch or drawing of your part, our technical team will let you know.
Identifying Surface Finishing Requirements
The BRM Tech Lab form is only a page long, but asks some important questions. For example, what is your project timeline and how many parts do you need per month or even per year? What is the application for your part, and are there special circumstances surrounding its production or use? BRM supports a wide range of applications and works with partners in many different industries. As we review your part information, we'll determine the best way to put our technical knowledge to work for you.
Understanding your final finishing requirements is critical. So are part specifications such as material and hardness; bore diameter, length and type; and surface conditions. Remember to indicate whether the bore type is through or blind, and if the surface condition is chromed or plated. The BRM Tech Lab form also asks about manufacturing and machining operations prior to finishing. Was the part drilled, reamed, bored, or honed? Your answers will help BRM to recommend the right tools and technologies.
Recommending Surface Finishing Tools and Technologies
Remember, too, that we do more than just analyze your part information. BRM's full-service Tech Lab will also deburr and surface finish your part. Then, when we share the results of our efforts, we'll indicate which surface finishing and deburring tool we chose – and how we used it. Tool selection is important, of course, but making the most of a flexible hone or industrial brush also means identifying the optimum operating parameters. So let us do the work for you!
Which tool will the BRM Technical Team recommend? That depends on your application. For cylinder surface finishing, cross-hole deburring, and other inner diameter (ID) applications, the BRM Flex-Hone® tool is the industry standard. For automated parts deburring and surface finishing with outer diameter (OD) applications, NamPower nylon abrasive brushes combine high-performance with consistent, reliable, cost-effective results. BRM's catalog of industrial brushes also includes many other high-quality tools.
Send In Your Part
Are you ready to get started on the road to surface finishing success? Are you ready to solve your surface finishing and deburring challenges? BRM is ready to help. Download the form for our Tech Lab program, and let BRM do the work for you.