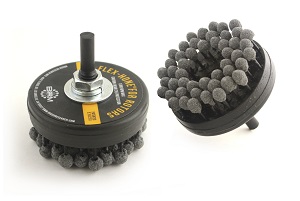 Rusty brake rotors don't just look bad. Corrosion can cause uneven or premature wear to your brake pads. Rust can also promote the excessive build-up of heat, which can cause brake rotors to warp. From friction-induced brake noise to that annoying, pulsing feeling in the steering wheel, brake shop mechanics hear their share of complaints. So what's the best way to solve brake rotor problems?
Find Surface Finishing Success
Some mechanics claim that inexpensive rotors just aren't worth resurfacing. The metal is too thin, they say, and sandpaper or discs will remove too much material. But what about high-performance brake rotors from manufacturers like AP Racing, which serves the automotive aftermarket? The M2/AP2 Racing Package sells for thousands of dollars, and is still worth plenty when used and in good condition.
For brake mechanics who resurface rotors, Flex-Hone® technology provides a solution. Made in the USA by Brush Research Manufacturing (BRM), the Flex-Hone® for Rotors creates a non-directional or "basket weave" finish while removing torn and folded metal. The Flex-Hone® for Rotors also removes surface rust and imparts a surface finish that helps embed new brake pads.
Crowning the Garage Queen
For John Ambrosio, a member of the on-line forum RX7Club.com, using the Flex-Hone® for Rotors was an important part of crowning his "garage queen", a term that some tuners used to describe mint-condition or well-maintained vehicles. As John explained, he ordered front and back rotors from a M2/AP racing kit as part of a larger rebuild. The rotors "arrived exactly as described," he said, and "were covered in rust."
Instead of using sandpaper or discs, however, John ordered a medium-grit Flex-Hone® for Rotors tool. "Seemed like a good product", he explained. At home in his garage, John mounted each brake rotor in a lathe and, with the Flex-Hone® for Rotors, resurfaced all four rotors. "I am very happy with the results," he told RX7Club.com, adding that this part of his automotive project "took about 30 minutes".
Choosing and Using the Flex-Hone
®

for Rotors

As the Flex-Hone® for Rotors Brochure explains, BRM's brake hone is available in fine, medium, and coarse grits. The medium-grit tool that John selected is recommended for use with most passenger cars and light trucks, and requires no special training. The Flex-Hone for Rotors Brochure contain important instructions, however, such as recommended speeds, angle, and pressure.
BRM thanks John Ambrosio for allowing us to share his story, including some great before-and-after pictures. Have you tried the Flex-Hone® for Rotors yet? For more rotors per hone and a non-directional finish, mechanics trust Flex-Hone® technology. Don't just take our word for it. As another RX7Club.com user explained, "Any serious track guy should have a Flex-Hone® for their brake discs."