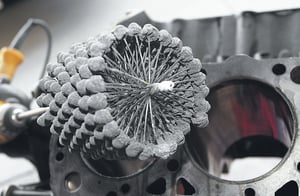 Diesel Power magazine provides professional diesel mechanics with in-depth examples of engine rebuilds. Do-it-yourselfers (DIYers) also read the world's largest diesel magazine for tips, techniques, and recommendations about engine tool selection and use.
In an article entitled Rebuilding International's 7.3L IDI Engine Heads and Crank, Diesel Power described what the author called "the key" to a good engine rebuild – the Flex-Hone® tool from Brush Research Manufacturing (BRM). These flexible cylinder hones impart an oil-retaining surface finish that promotes piston ring seating and sealing in big diesel engines like the International IDI.
The Right Tools for Diesel Engines
The diesel engine that the author chose to rebuild is a popular one. The International 7.3L IDI is an eight-cylinder, indirect injection (IDI) powerplant that's used in Ford F-series pickup trucks and commercial vehicles. This 442-cubic inch cast iron block wasn't the first IDI engine from International Harvester (now Navistar International), but the bores are bigger than in the 6.9L version.
As the author of the Diesel Power article explained, "seven of our 7.3L's glazed cylinders had no major scratches or blemishes." That made them a great fit for flexible honing. For bores that are out-of-round or that require resizing, rigid honing is recommended instead. Then, to impart the ideal final finish, Flex-Hone® tools can be used.
Getting Started with Flexible Honing
After wiping down the cylinder walls, the engine rebuilder "went to work" with a 4-1/8" (105mm), 320-grit silicon carbide (SC) Flex-Hone® tool. BRM supplies standard Flex-Hone® tools in diameters from 4mm to 36". To provide a soft cutting action, the tool is always used in oversized condition. In other words, the engine hone's diameter is slightly larger than the bore.
BRM's flexible cylinder hones come in 9 different abrasive types and 11 different grit selections. The 320-grit SC tool that the mechanic chose is a good choice for cast iron cylinders that require deglazing, deburring, and surface finishing. Other base materials require different abrasives. Grit sizes is a function of the amount of work to perform. Coarser finishes may require progressively finer-grit Flex-Hone® tools.
Best Practices for Engine Honing
With the Flex-Hone® tool well-lubricated, the diesel mechanic stroked each cylinder without over-honing. The BRM Flex-Hone® is a low RPM tool, but speed varies with tool diameter. The mechanic also rotated the Flex-Hone® tool upon entry and removal from each cylinder. For more symmetrical deburring, BRM recommends honing cylinders in a clockwise and then a counterclockwise direction.
Would you like to learn more about flexible honing for diesel engines? The Flex-Hone® Resource Guide is the ultimate source of information for tool selection and use. Get your copy today.