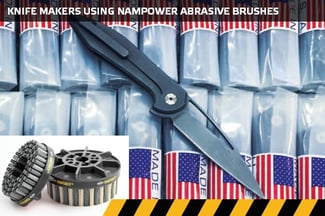 Zodiac Engineering manufactures folding and fixed-blade knives. The Southern California startup also provides milling, turning, heat treating, tumbling, and precision CNC machining services. Zodiac's founder, Ken Spaulding, makes aluminum and titanium sling shots, too.
With knife manufacturing, imparting the ideal surface finish is especially important. Customers don't want to see tool paths and marks that are left behind by machining operations. Chamfer tools can deburr and surface finish the pockets in a metal knife frame, but the work time-consuming.
That's why Zodiac switched to NamPower disc brushes from Brush Research Manufacturing (BRM). These nylon abrasive brushing tools are fast, cost-effective, and long-lasting. NamPower technology is also the surface finishing solution of choice for Balzano Knives, a maker of high-quality knives and other bladed tools.
Metalworking Technology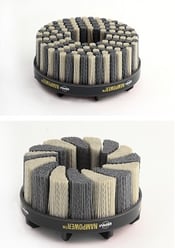 FFJournal Magazine reports on innovative tools and technologies used by metal fabricators and original equipment manufacturers (OEMs). In a March 2017 article for FFJournal, Senior Editor Lynn Stanley asked Zodiac's Ken Spaulding about NamPower disc brushes for knife manufacturing. The metalworker also uses NamPower tools to deburr and finish aluminum hooks and titanium pocket clips.
As Spaulding explained, NamPower disc brushes are a great choice for knife frames and handles. "Flat parts with holes, tapered or uneven surfaces lend themselves to the touch of NamPower's abrasive nylon filaments," the knifemaker said. Plus, "it's faster in one pass to run a NamPower brush over all the pockets in a knife frame than to meticulously use a chamfer tool".
Zodiac shares NamPower brushes with several other businesses in an industrial co-op. Paulo Balzano, the owner of Balzano Knives, shares Ken Spaulding's appreciation for NamPower technology. "Having resources from companies who make great tools—like BRM with their brushes—takes huge amounts of time off the process," Balzano explains in this YouTube video.
NamPower Brushes For Knife Makers
NamPower disc brushes remove burrs, radius edges, and improve surface finish. Manufacturers and metalworkers such as knifemakers use dot-style brushes for lighter-duty applications, and turbine-style tools for medium-to-heavy deburring. Both styles come standard with a unique combination of ceramic and silicon carbide abrasive for maximum burr removal rates and an optimum surface finish.
For knifemakers, NamPower disc brushes are also a smart choice because they integrate with existing production equipment like CNC machines. BRM's disc-shaped brushing tools are available in different diameters, grit sizes, trim lengths, and bristle densities, too. All NamPower discs feature flexible nylon abrasive filaments that conform to part contours while gently wiping and filing across part edges and surfaces.
Would you like to learn more about NamPower technology? Then get the NamPower Resource Guide, the ultimate source of information about NamPower disc brushes.