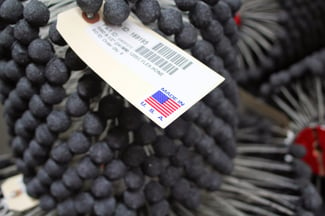 Made in the USA Flex-Hone® tools from Brush Research Manufacturing (BRM) are helping manufacturers across the United States to compete and win in the global marketplace.
For surface finishing and deburring the walls of cylinders, Flex-Hone® tools are more than just the industry standard. BRM's flexible, resilient honing tools help companies to reduce costs, improve productivity, and increase quality and consistency.
Let's take a closer look at how two U.S. manufacturers have used Flex-Hone® technology to meet business challenges and get real-world results. You can also find additional case studies on the Applications Guide section of our website.
Copeland Cuts Costs
Copeland Corporation of Sydney, Ohio wanted a more cost-effective way to deburr compressors. The company, now a division of Emerson Electric, estimated that manual deburring would require .25 minutes of labor per part for direct labor costs that might reach $50,000. Automated deburring could reduce labor costs, but some deburring technologies require expensive boring heads.
By using BRM Flex-Hone® tools instead, Copeland got cost-effective results. According to a manufacturing engineer at the company, operators can eliminate burrs around a cylinder's port in just two seconds. Moreover, each Flex-Hone® tool can surface finish and deburr hundreds of cylinders. Flex-Hone® technology improved productivity and ensured part quality and consistency, too.
Humphrey Reduces Waste
Humphrey Products of Kalamazoo, Michigan was losing 5% of the air valves that it makes during the finishing process. The steel media that was used for deburring would become lodged deep within a valve's body, causing the manufacturer to discard as many as 150 parts during a typical production run of 3000. Eliminating this waste was important, but the company also wanted to promote efficiency and quality.
Unlike steel media, BRM's flexible honing tools use a soft cutting action that gently removes cut, torn, and folded metal. At Humphrey Products, the Flex-Hone® tool is mounted in semi-automatic equipment and used to eliminate flashing in seconds. Flex-Hone® tools can also be used with handheld power tools and fully-automated machinery for a complete surface finishing and deburring solution.
Made in America Flex-Hone® Tools
Flex-Hone® tools are available in range of diameters, abrasive types, and grit sizes. BRM ball hones require no special training or instruction, and provide consistent part-to-part finishing. Today, BRM Flex-Hone® tools are used by companies ranging in size from small machine shops to Fortune 500 corporations. For the ultimate source of Flex-Hone® information, get the Flex-Hone® Resource Guide.