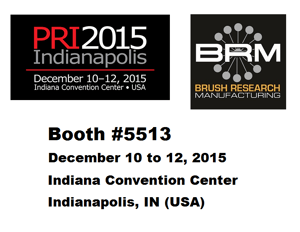 PRI 2015 is where you'll find more racing products than anywhere else on Earth. Sponsored by the Performance Racing Industry (PRI), the annual PRI Show in Indiana joins leading suppliers with motivated buyers from all 50 U.S. states and 70+ countries.
This year's event, PRI 2015, will be bigger and better than ever. With over 1,000 exhibitors in 3,300 booths, PRI Show attendees will have plenty to see at the Indianapolis Convention Center from December 10 to 12, 2015.
For automotive surface finishing and cleaning, there's just one place to be. Visit Brush Research Manufacturing (BRM) in Booth #5513 to see Flex-Hone® tools for engine cylinders and brake rotors, automotive brushes for engine components, and parts wash brushes for auto parts cleaning.
Drive Engine Performance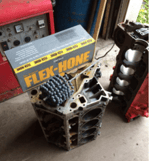 Flex-Hone® tools for engine cylinders impart a cross-hatch pattern of oil-retaining valleys for optimum lubrication and reduced friction and wear. They break the "glaze" that forms on cylinder walls, and remove cut, torn, and folded metal. The superior surface finish that flexible honing imparts also promotes piston ring seating and sealing.
Visit BRM in Booth #5513 to find ball hones for engine rebuilds. These Made in America engine tools feature abrasive globules that are mounted to flexible nylon filaments for a full 360° of cutting action. Flex-Hone® tools are also build with a metal stem that supports their use with most any rotating spindle, include handheld power drills.
Silence Noisy Brakes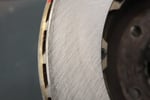 Flex-Hone® for Rotors tools also have abrasive globules, but these flexible hones are designed for brake rotors instead of engine cylinders. By imparting a non-directional surface finish, BRM's rotor hones lower harmonic vibrations and eliminate brake noise. Flex-Hone® for Rotors tools also remove rust that can cause brake pads to wear unevenly or prematurely.
Are you still using sandpaper or discs with high-performance aftermarket brake rotors? Then visit BRM in Booth #5513 and learn how brake technicians are using Flex-Hone® for Rotors tools with new and re-turned brake rotors, and with automotive flywheels. For eight years in a row, the Flex-Hone® for Rotors was named a Top Ten Tool by Undercar Digest Magazine.
Rebuild Engine Components and Clean Auto Parts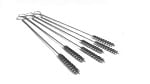 As a full-line supplier of surface finishing solutions, BRM provides brushing tools for oil lines, galleries, valve guides, and spark plugs. High-quality brush tools for valve guides are sold individually, and in cost-effective kits. Automotive distributors and racing industry buyers also like how BRM spark plug brushes are specially-packaged for point-of-purchase displays.
Visit BRM in Booth #5513 to learn more, and to find parts wash brushes for oil pumps, wheels and wheel bearings, engine and brake components, valves, and gears. All of our parts wash brushes feature long-lasting filaments, and some are supplied with a tube that's designed to fit washer nozzles. For automotive detailing, ask about BRM's soft-tip cleaning brush.
Plan Your PRI Show. Request a Meeting.
When you visit BRM at PRI 2015, you'll see videos of our automotive tools and technologies in action. You'll also get to talk to our Technical Team and ask questions about BRM products for parts cleaning and surface finishing.
Visitors to the BRM Booth at PRI 2015 will also receive high-quality tradeshow bags, a convenient way to carry product information as you travel the tradeshow floor. So load up on literature about BRM's flexible honing tools and automotive brushes.
Are you ready to make the most of your time PRI 2015? Request a meeting with BRM.