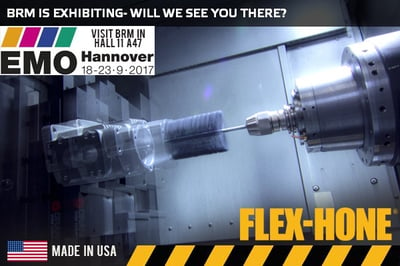 Brush Research Manufacturing (BRM), maker of Flex-Hone® tools and a full line of industrial brushes, will exhibit at EMO Hannover 2017, the world's premiere tradeshow for metalworking.
From September 18 to 23, BRM will showcase technologies for surface finishing and deburring in Booth #A47, Hall 011 at the Hannover Exhibition Grounds in Hannover, Germany.
Mike Miller (Vice President of Global Sales), Heather Jones (Executive Vice President), and Jonathan Borden (Director of Sales) will meet with EMO attendees and explain how BRM helps solve metal finishing challenges.
Visitors to the BRM booth are invited to schedule an appointment, receive a complimentary day pass, and learn about Flex-Hone® tools, NamPower brushes, and BRM's other metal finishing products.
Flex-Hone® Tools for Any Type or Size of Cylinder
Flex-Hone® tools are flexible, resilient honing tools for cylinder deburring and surface finishing. With their soft cutting action, these tools remove burrs and improve surface quality in a single step. Importantly, flexible cylinder hones impart an ideal surface finish with a non-directional or cross-hatched pattern. This plateau finish supports optimum lubrication for reduced friction and wear.
Flex-Hone® tools are built with abrasive globules or balls that are permanently laminated to flexible nylon filaments. These finishing and deburring tools come in standard sizes from 4-mm to 36-inches and in different abrasive types and grits for various base materials and surface finishing requirements. Diamond Flex-Hone® tools are ideal for harder materials. For automated deburring and surface finishing, BRM's Flex-Hone® tools mount in CNC equipment, robotic cells, and transfer lines.
NamPower Brushes for High Volumes And High-Performance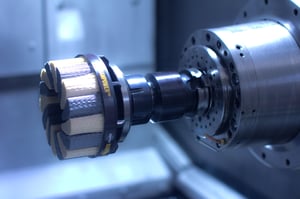 BRM will also showcase its family of NamPower nylon abrasive brushes at EMO 2017. These high-performance metalworking tools include abrasive discs, wheels, and lightweight tool holders that reduce spindle stress and provide flow-through cooling. Like BRM's Flex-Hone® technology, NamPower brushes support automation for higher volumes and can remove burs and improve surface finish in the same operation.
NamPower abrasive disc brushes come in dot and turbine styles for light-to-moderate and heavy-duty deburring, respectively. They're available in a range of diameters, include smaller-sized tools for planetary mountings and hard-to-reach spaces. A unique combination of silicon carbide and ceramic abrasive provides maximum burr removal rates.
NamPower wheel brushes have nearly indestructible cores and a well-balanced construction. Abrasive types include silicon carbide for industrial metals and diamond abrasive for harder materials. NamPower wheels are a great choice for edge radiusing. These wheel-shaped metalworking tools put more cutting tips at the point of attack for longer life.
Find More Metalworking Tools AT EMO 2017
Would you like to learn more about BRM's full line of flexible honing tools and industrial brushes? Do you have application-specific questions about Flex-Hone® tools or NamPower nylon abrasive brushes? If you're headed to EMO 2017, schedule an appointment with the BRM Team. If your tradeshow plans don't take you to the world's premiere metalworking show, contact BRM on-line anytime.