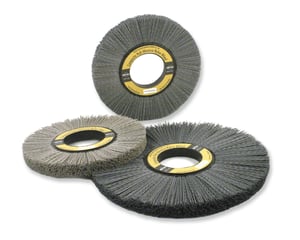 NamPower wheel brushes are great for removing sharp edges from metal parts such as cutting tools, turbine blades, gears, shafts, and extrusion cut-offs. In addition to removing burrs, NamPower wheels create a desired edge radius and impart a superior surface finish.
BRM's NamPower Resource Guide explains how to select and use these nylon abrasive brushing tools, but are they really the right choice for your application? Here are ten reasons to try NamPower wheels for your next deburring, edge radiusing, or surface finishing project.
better peformance
NamPower wheel brushes feature abrasive-filled filaments that are set into molded cores. This unique construction supports higher filament densities that put more cutting tips at the point of attack.
Longer Brush Life
Along with increased performance, NamPower wheel brushes are designed to reduce filament breakage. These BRM brushes also have virtually indestructible cores for longer tool life.
higher Performance At a Lower Cost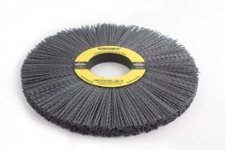 Compared to other types of nylon abrasive wheels, NamPower tools deliver higher performance at a lower cost. These BRM tools also offer a performance advantage over non-woven abrasive brushes.
Shorter Part Cycle Times
NamPower wheels support both machine-based and offhand deburring. By automating your deburring, edge radiusing, and surface finishing operations, you can speed production and reduce part cycle times.
Reduced Machine Fatigue
With their well-balanced construction, NamPower wheels put less stress on machinery. Reusable arbors are available for increased brush support and reduced brush vibrations.
Application-Specific Finishing
NamPower wheel brushes can provide more aggressiveness, or more flexibility. You can also choose brushing tools for finer or coarser finishing.
Made for Industrial Metals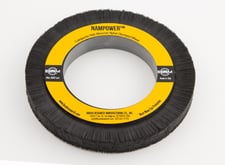 NamPower wheels come with a choice of abrasive-impregnated nylon filaments. Tools with silicon carbide abrasive are ideal for machined parts made of industrial metals such as aluminum and steel.
Hearty for Harder Materials
For harder materials like diamond, CBN, ceramic, and carbide, NamPower wheels with diamond abrasive get the job done. These diamond wheels also work wonders with hardened tool steels and glass.
Available in a variety of sizes
NamPower wheels come in a range of sizes for both larger and smaller surfaces. Larger-diameter wheels are less aggressive and more flexible. Smaller diameter wheels are less flexible and more aggressive..
Safe and reliable
Finally, NamPower wheel brushes help you to make safety a priority. Nylon abrasive brushes are safer than wire brushes, and a burr-free finish can reduce the risk of worker injury during part handling.
Learn More. Get the Guide.
Ready to learn more about NamPower wheel brushes? For the ultimate guide to NamPower technology, get the NamPower Resource Guide.