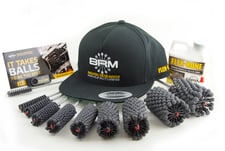 Flex-Hone® tools are available individually, but wouldn't it be nice if you could just buy a kit with all of the different-sized ball hones that you need? Even better, wouldn't it be great if this kit included Flex-Hone® oil, BRM's own special honing oil, for your next automotive project?
If you're in the market for a complete surface finishing solution, check out BRM's new 10-piece Flex-Hone® automotive kit. Each flexible hone is proudly Made in the USA and comes in 180-grit silicon carbide. The tools range in size from 10mm to 2". This special kit also contains 1/4 quart of Flex-Hone® oil along with how-to videos, instructions for use, and a premium BRM baseball cap.
The Flex-Hone® Advantage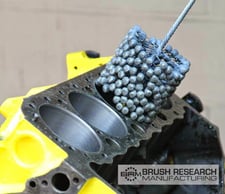 Flex-Hone® tools from Brush Research Manufacturing (BRM) are the industry standard for cylinder surface finishing. During engine rebuilds, their soft cutting action breaks the glaze on cylinder walls. Flex-Hone® tools also remove burrs, blend edges, and provide a superior surface finish with an oil-holding crosshatch pattern. As automotive mechanics know, optimum lubrication supports performance, reduces friction and wear, and helps you get the most from your vehicles.
In addition to engine cylinders, Flex-Hone® tools are great for bearing and bushing applications. Mechanics also use BRM ball hones for refinishing brake calipers, lifter bores, and U-joint yokes. For these and other applications, flexible honing imparts a better sealing surface for increased performance and life. BRM supplies Flex-Hone® tools in a variety of tool diameters, abrasive types, and grit sizes, but many automotive projects need a set of tools that – until now – were sold separately.
BRM's 10-Piece Flex-Hone® Kit
BRM's new 10-piece Flex-Hone® kit contains flexible cylinder hones with the following diameters: 10mm, 1/2", 5/8", 3/4" 7/8", 1", 1-1/4", 1-1/2", 1-3/4", and 2". To produce a soft cutting action, Flex-Hone® tools are always used in an oversized condition. For example, a flexible hone for a 2" bore has a tool diameter that's slightly greater than 2". Tool diameter is important, but you also need flexible cylinder hones with the right abrasive type and grit size.
All of the Flex-Hone® tools in BRM's new 10-piece kit feature silicon carbide (SC) abrasive, a great choice for cast iron, mild steel, and stainless steel – metals that are commonly found in automotive cylinders. Because flexible hones are used with a lubricant, these 180-grit tools won't load during honing. Even better, the Flex-Hone® oil that BRM provides is formulated especially for flexible honing. If you can use a handheld electric drill, you can use Flex-Hone® tools.
Learn More
This week, BRM is at SEMA 2016 in Las Vegas, Nevada. From November 1 to 4, visit us in Booth #10275 and then scan your badge for a chance to win a free 10-piece Flex-Hone® automotive kit. Then in December, Team BRM hits the road for PRI 2016 in Indianapolis. If you'll be at the Indiana Convention Center form December 8 to 10, visit us in Booth #5513. But don't worry if your travel plans don't take you to these two tradeshows. To learn more about BRM's new 10-piece Flex-Hone® automotive kit, contact us.