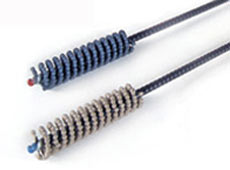 Paintball is an extreme sport in which players "tag" their opponents with soft-shelled capsules filled with paint or dye. When fired from a paintball gun (marker), these capsules (paintballs) explode upon contact and mark whatever the shooter hits.
Founded approximately 30 years ago, paintballing continues to grow in popularity as equipment manufacturers develop better paintball guns, ammunition, and tactical gear. Today, shooters can choose from burst, pump action, automatic, and semi-automatic markers.
Powered by compressed gas, paintball guns are like other firearms in that they require cleaning and maintenance. Fortunately, the Flex-Hone® for Firearms provides a superior surface finishing solution.



Flexible Honing for Paintball Pistols
To get the most from their markers, shooters like the contributors at M. Carter Brown, an on-line forum for paintballing, use the Flex-Hone® tool from Brush Research Manufacturing (BRM). In a thread called "How to Get the Most from Your Newly Honed Pistol", owners of Redux and Armotech Zeus paintball pistols recently discussed the value of flexible honing. CJOttawa, a Canadian user whose tagline is "immune to sales tactics", described his plans to "hit the Redux barrel" with an 800-grit aluminum oxide Flex-Hone®. Rob from Michigan added that finishing the barrels of his Zeus paintball pistols with the Flex-Hone® for paintball guns provided greater accuracy at long range.
Rear Bore and Barrel Hones
Built with a stiff, coated stem and finger-like formations of abrasive globules, the Flex-Hone® for Firearms follows the geometry of the bore to polish the metal gently and create a uniform surface finish. For paintball pistols, choose either a rear bore hone or a barrel hone. Both are designed for .68 caliber paintball guns, but Brush Research can also design custom tools.
The rear bore Flex-Hone® uses aluminum oxide (AO) abrasive and is available in 600 and 800-grit. The barrel hone offers a choice of aluminum oxide (AO), levigated alumina (LG), or silicon carbide (SC) abrasives, and is available in either 600 or 800-grit.
To learn more, download the Flex-Hone for Firearms brochure.