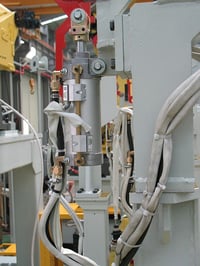 Pneumatic cylinders are fluid power devices that use a compressed gas such as air to move a piston in a reciprocating, linear motion. If the walls of a pneumatic cylinder are too smooth, there's higher friction between the O-rings and bore surfaces. If the walls of a pneumatic cylinder are too rough, burrs and other surface irregularities can shear softer seal materials.
To protect the integrity of pneumatic cylinders, manufacturers and maintenance technicians need to ensure that bores have a proper surface finish. The Flex-Hone® tool from Brush Research Manufacturing (BRM) removes burrs and improves surface condition at the same time. Suitable for any type or size cylinder, these flexible honing tools also support cylinder sealing and lubrication.
The Value of Plateau Finishing
In Why Air Cylinders Fail, an on-line article from Machinery Lubrication, a pneumatics expert warns how "catastrophic failure can occur when cylinder seals have insufficient lubrication". High or fast cycle rates can generate high levels of heat, and a lack of lubrication can cause seals to "run dry". To prevent seal failure, the walls of a pneumatic cylinder need a surface finish that helps to reduce friction and wear.
The Flex-Hone® tool supports cylinder wall lubrication by imparting a uniform series of oil-retaining grooves or valleys. BRM's flexible honing tools also reduce raised areas or peaks to a uniform height. By removing torn, cut, folded, or jagged metal that could damage cylinder O-rings, this plateau finish also supports proper sealing in pneumatic cylinders.
How Flexible Cylinder Honing Works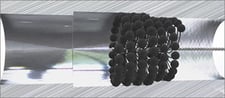 BRM Flex-Hone® tools feature abrasive globules or balls that provide a soft, cutting action. They are designed for mounting in handheld power tools or production machinery, and should always be used with a good-quality machine oil such as Flex-Hone® oil. No special training or instruction is required, but Flex-Hone® users need to follow some best practices.
For example, flexible hones should be rotated prior to entering the cylinder, and should continue rotating until fully removed from the part. Typically, users secure the Flex-Hone® in a collet, chuck, or similar holding device and then rotate the tool along with the spindle. As this brief YouTube video shows, however, it's also possible to rotate the part instead.
Learn More about Flex-Hone® Tools
For more information about BRM Flex-Hone® tools, download the Flex-Hone® Resource Guide. This free, full-color, technical publication explains how to select and use flexible cylinder hones for deburring and surface finishing. Flex-Hone® tools are proudly Made in the USA and are available or any type or size of cylinder. Also, if you'll be at the ABMA 100th Annual Conference later this month, meet BRM from March 22 to 25 in Orlando, Florida.