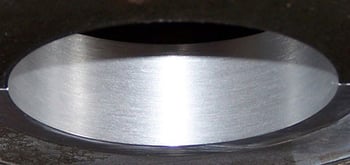 Bearing bores are engine components that house the main bearings, mechanical elements with grooves for passing oil to feed-holes in the crankshaft. For optimum engine performance, bearing bores or tunnels must meet tight tolerances and have an oil-retaining surface finish.
Line boring with a rigid hone is the right choice for bores that are out-of-round or that require significant material removal. To impart an oil-retaining final finish, however, automotive experts like MSB Tuning in Queensland, Australia recommend the "world's best cylinder bore" – the BRM Flex-Hone® tool.
Plateau Finishing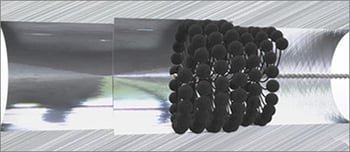 In an on-line article, MSB Tuning explains how to restore main bearing tunnels. The author, an experienced engine tuner, writes that "good contact between the bearing and bore will not be possible with a surface that does not have a plateau finish. If "high peaks" from rigid honing are left in place, these raised areas will "bed the bearing" against the cylinder walls and affect engine performance.
The BRM Flex-Hone® flattens these peaks to impart a substantially smooth surface finish that's free of cut, torn, and folded metal. The Flex-Hone® tool also creates a uniform series of grooves or valleys that help engine oil adhere to cylinder walls. The result, MSB Tuning explains, is a better "contact surface" for the main bearings and an oil-retaining finish for optimum lubrication.
Abrasives, Grits, and Finishes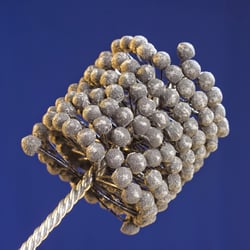 MSB Tuning repairs many different types of automotive engines. For cast iron engine blocks, the shop uses Flex-Hone® tools with silicone carbide (SC) abrasive. For aluminum alloy blocks, the engine rebuilder uses aluminum oxide (AO) cylinder hones instead.
Both types of flexible hones feature distinctive abrasive balls that are permanently mounted to flexible nylon filaments. As the Flex-Hone® Resource Guide explains, the base material determines which abrasive type to use.
Flex-Hone® tools come in 10 different abrasive types. Grit selection is a function of the amount of work to perform and the degree of surface improvement that's required. Coarser finishes may require the use of progressively finer Flex-Hone® tools. At MSB Tuning, the author sometimes begins with a 180-grit tool and will then "finish off" the bore with an 800-grit tool.
Best Practices for Flexible Honing
Flex-Hone® tools are designed for use with most any rotating spindle, including handheld electric drills. Always use a high-quality lubricant like Flex-Hone® oil, but never over-hone the cylinders. Follow BRM's recommendations for operating parameters but perform machine trials as necessary.
For complete how-to information, get the Flex-Hone® Resource Guide.