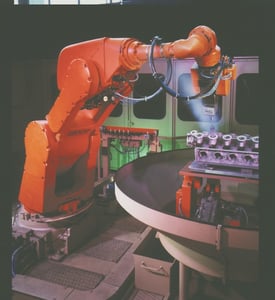 Flex-Hone® tools are ideal for robotic deburring operations that can save manufacturers time and money. With industrial robots, end effectors grasp the Flex-Hone® by its metal stem wire and rotate the deburring tool according to programmed commands. By combining flexible honing with industrial automation, part manufacturers can combine speed and efficiency with quality, consistency, and accuracy.
The benefits of robotic deburring with Flex-Hone® tools don't stop there. No matter how you use them – with a handheld drill, drill press, CNC machine, or other rotating spindle – Flex-Hone® technology imparts the ideal surface finish to cylinder walls. Flexible hones from Brush Research Manufacturing (BRM) also remove burrs from cross-drilled holes.
Let's take a closer look at why Flex-Hone® tools are ideal for robotic deburring.
Increase Productivity
Flex-Hone® tools in robotic cells can increase the speed and efficiency of your manufacturing operations. Through rapid tool changes, industrial robots can follow high-speed machining with high-quality surface finishing. Instead of moving parts between workstations or outsourcing cylinder deburring, you can increase cycle times with an integrated, in-house approach to machining and post-machining operations.
Reduce Worker Injury
Manual operations can require repetitive motions that induce worker fatigue and increase the risk of musculoskeletal injury. Manual deburring with the Flex-Hone® is fantastic for field repairs, but automated deburring is a smart choice for higher part volumes. With robotic deburring, the end effector removes potential strain from a worker's hand and wrist.
Ensure Consistency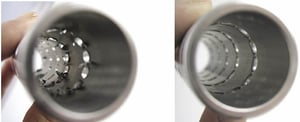 Robotic deburring with Flex-Hone® technology ensures a consistent, burr-free finish from part-to-part. With manual deburring, cylinders that are deburred on a Monday morning may display variations in surface quality from cylinders that are deburred on a Friday afternoon. Hand-held deburring tools such as honing stones can also yield different results by the same employee in the same shift.
Improve Quality
BRM Flex-Hone® tools don't just increase consistency, however. Flexible hones improve surface quality by removing torn, cut, folded, and jagged metal that can cause problems like part misalignments. Flexible cylinder hones also impart a uniform series of oil-retaining grooves for optimum lubrication and reduced friction and wear. Ball hones aren't designed for heavy-duty material removal and won't gouge-out cylinder walls either.
Learn More
Would you like to learn more about the benefits of flexible honing? For complete information about Flex-Hone® technology, download the Flex-Hone® Resource Guide. Then, if you're headed to EMO Hannover in September, meet BRM in Booth #A47, Hall 011. The theme of EMO 2017 is about connecting systems for intelligent production, so talk to our Technical Team about Flex-Hone® tools for robotic cells.