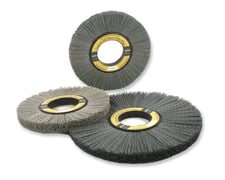 Metal shafts are rotating elements that transmit power in machinery and equipment. They can be finished to size by turning and grinding, but shaft manufacturers need to impart a final finish that promotes proper performance. Otherwise, friction-related problems can occur.
For example, shafts that are too smooth may adhere to plain bearings. Shafts that are too rough are also problematic because of abrasion-induced friction. Wire wheel brushes and non-woven abrasives can improve a shaft's surface finish, but these tools raise concerns about safety and performance.
For superior surface finishing and deburring, shaft manufacturers use NamPower wheel brushes from Brush Research Manufacturing (BRM). These nylon abrasive brushing tools provide important advantages in terms of brush construction and performance.
Composite Hubs and Higher Filament Densities
NamPower wheel brushes feature molded, composite hub cores for higher filament densities, more even wear, and longer brush life. The well-balanced construction of NamPower wheel brushes also puts more cutting tips at the point-of-attack for improved performance.
Abrasive Types and Grit Sizes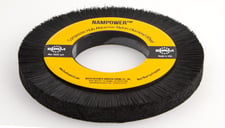 Shaft manufacturers can choose NamPower wheel brushes with either silicon carbide or diamond abrasive filaments. Both types of filaments work like flexible files that gently wipe across the part's surface.
The shaft's base material determines which abrasive type to select. The surface finishing and deburring requirements determine which grit or mesh size to choose.
Silicon carbide abrasive is recommended for steel shafts and comes in coarser and finer grit sizes. Use coarser grits for heavy-duty deburring and then a finer-grit wheel brush for final finishing.
Diamond abrasive is recommended for shafts made of harder materials. NamPower wheel brushes come standard in 600 mesh, but BRM can provide additional mesh sizes upon request.
Wheel Brush Diameters and Dimensions
NamPower wheel brushes with silicon carbide abrasive come standard in 6" and 8" diameters. Diamond wheel brushes are available in three sizes: 4" (100m), 6" (150 mm), and 8" (200 m). Shaft manufacturers can also specify NamPower wheels with different face widths and trim lengths to solve specific surface finishing and deburring challenges.
Learn How to Use NamPower Wheel Brushes
As the NamPower Resource Guide explains, the diameter of a NamPower wheel brush helps to determine the suggested brush speed, which is measured in revolutions per minute (RPMs). Yet shaft manufacturers also need to balance part penetration with line speed.
For complete information about suggested operating parameters, including cut depth and feed rate, download the NamPower Resource Guide from Brush Research Manufacturing.