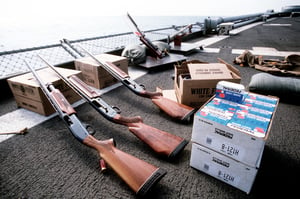 Back boring a shotgun barrel increases the size of the bore relative to the constriction of the choke for a tighter shot pattern. For hunters, target shooters, and other shotgun owners, denser patterns and larger pellets can support longer shots and greater accuracy. Back boring a shotgun can also reduce recoil, which means less intense blows to a shooter's shoulder.
Removing the right amount of material with a back bore reamer is important, but experienced gunsmiths also understand the value of an optimal surface finish. That's why they use Flex-Hone® tools for shotgun barrels from Brush Research Manufacturing (BRM). Flex-Hone® for Firearms tools impart a smooth, polished finish while promoting optimum lubrication and resistance to corrosion, resistance and fouling.
How to Back Bore a Shotgun
In Back bore a shotgun, an article on rifleshooter.com, readers can learn how to use a metal lathe to drive a back bore reamer. As the author explains, the setup that's described is patterned after that of a gunsmith in Ontario, Canada. Back boring with the Grizzly 4003G gunsmith's lathe required a reamer extension, frequent tool cleaning and lubrication, and a sound understanding of where to stop the reamer.
According to the article's author, the entire fixture cost about $160 to make. The chuck, which was the most expensive part, cost about $100. By experimenting with the spindle speed and the feed rate, the author used the shotgun reamer to achieve a bright, shiny finish. Some gunsmiths consider the job done once the barrel is removed from the lathe, but this project included an important, additional step.
Flexible Honing for Shotgun Barrels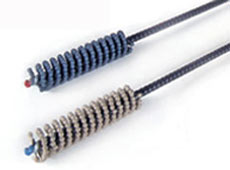 "Honing," the author explained, "is an absolute requirement if you do this work by hand." So why use the Flex-Hone® for Firearms if you've reamed the barrel on a lathe then? BRM's shotgun maintenance tool isn't designed for material removal. Rather, the Flex-Hone® for shotgun barrels imparts a plateau finish that promotes lubrication and helps reduce fouling, corrosion, and wear.
Gun owners want a smooth, polished finish for the bores of their firearms, but just because a surface is shiny doesn't mean that it's ideal. Flexible honing removes cut, torn, and jagged metal. This deburring and surface finishing technique also imparts a uniform series of oil-retaining grooves. Flex-Hone® tools don't require any special training or instruction. Plus, they be used with most any rotating spindle – including handheld electric drills. Still, there are some best practices to follow for tool selection and use.
Learn More About Flex-Hone® for Firearms Tools
Are you ready to learn more about Flex-Hone® for Firearms tools? To learn how to use BRM's shotgun barrel hones, watch this short video. You can also learn more about flexible honing for firearms by downloading the Flex-Hone® for Firearms brochure. This free, full-color brochure includes instructions for use, and provides product specifications for all of the gun tools in the Flex-Hone® for Firearms family.