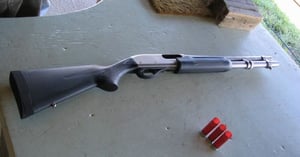 Members of the Guns group on Reddit exchange information about firearms tools and performance. In a thread called This is the worst gun in my collection, several users cited the Remington Model 870 for shotgun extractor problems.
"It doesn't feed right at all," said one shooter. "The shell gets stuck in the chamber after it's been fired," replied another. The M870 is the world's best-selling shotgun, so these reports might surprise some gun owners. As Flex-Hone® for Firearms users know, however, the solution starts with the surface finish.
Surface Finishing for Shotgun Chambers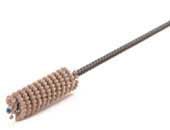 Shotgun extractor problems can be caused by improper machining during firearms manufacturing. If the chamber's surface finish isn't smooth enough, brass from fired shells may accumulate in recessed areas. Residual tool marks aren't the only problem either. If the surface finish contains nicks and scratches, plastic adhesion can occur. Brass scarring can cause sticking and failures to eject (FTEs), too.
To address shotgun extractor problems, some gun owners result to brute force. Yet slamming the gun on the ground risks damaging the shotgun extractor. As a member of the Guns group on Reddit explained, the best approach is to "fix the root problem" and "get that chamber smooth". This approach, the shooter added, involves BRM's Flex-Hone® for Firearms tool. "I purchased a Flex-Hone to get mine done," the shotgun owner explained. "Now I can shoot the cheap low brass without issue at all."
Flex-Hone® for Firearms Tools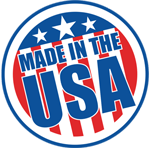 Made in the USA by Brush Research Manufacturing (BRM), the Flex-Hone® for Firearms surface finishes the walls of firearms cylinders. BRM's gun tools aren't meant to replace gun cleaning brushes, but are designed for periodic gun maintenance. For shotguns, BRM supplies barrel hones, chamber hones, and forcing cone hones that gently smooth metal surfaces. The resulting finish is more uniform, and resists corrosion and wear while reducing fouling.
Flex-Hone® Firearms tools mount in handheld electric drills and, as this How-to Video explains, run at low RPMs. User should choose a high-quality lubricant such as Flex-Hone® oil and avoid overhoning the cylinder walls. Unlike rigid hones, Flex-Hone® tools aren't built for heavy-duty material removal. By keeping the bores of your firearms at the precise dimensions required, Flex-Hone® for Firearms tools support proper gun maintenance and performance.
VISIT BRM At the SHOT WEEK Supplier Showcase
Later this month, BRM will participate in the SHOT Week Supplier Showcase, a two-day event that includes the first full day of SHOT SHOW 2018. This unique marketplace is the perfect opportunity for manufacturer-owners, engineers, purchasing agents, and R&D specialists to learn more about BRM Flex-Hone® for Firearms tools.
Whether you're headed to this event or not, BRM also invites you to download the Flex-Hone® for Firearms brochure. This free, full-color guide contains complete information about gun tool selection and use.