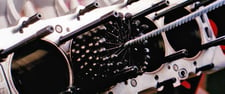 Alfa Romeo sports cars are known for their power and performance. Since 1911, when two Alfas entered the Targa Florio Competition, these Italian automobiles have been a part of international motorsport. Today, Alfa aficionados gather on-line to discuss engine maintenance and repairs. For do-it-yourself (DIY) engine rebuilds, experienced "Alfistas" choose Flex-Hone® tools from Brush Research Manufacturing (BRM).
The Flex-Hone® Tool
The Alfa Bulletin Board is an automotive website where Alfa enthusiasts can ask questions and get answers about engine-related issues. In this on-line discussion, one Alfista described how he used Flex-Hone® tools to help restore an Alfa Romeo engine. BRM supplies flexible cylinder hones in a variety of sizes, the engine mechanic explained, and backs its products with a technical team that's ready to help.
For cylinder wall surface finishing, the BRM Flex-Hone® tool is the industry standard. Built with abrasive globules that are permanently laminated to flexible nylon filaments, the Flex-Hone® is self-centering, self-aligning to the bore, and self-compensating for wear. BRM's engine hones are easy-to-use, but that's not the only reason engine rebuilders like them. Flex-Hone® tools impart a surface finish that optimizes lubrication and promotes proper piston ring seating and sealing.
The Engine Rebuild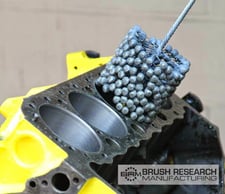 After tearing down his 1986 GTV6 Alfa Romeo engine, the Alfista used rigid honing tools to resize the runners to 37-mm. Next, the mechanic clamped the wire stem of a 38-mm Flex-Hone® tool into the chuck of a handheld electric drill. Rigid hones are the right choice for bores that are out-of-round or require resizing, but flexible hones are ideal for surface finish improvement. To provide a soft cutting action, Flex-Hone® tools are always used in a slightly oversized condition.
As the Flex-Hone Resource Guide explains, coarser finishes may require progressively finer Flex-Hone® tools to meet final finish requirements. That's why after honing the cylinder walls with a 60-grit Flex-Hone®, the engine rebuilder switched to a 320-grit tool for the final finish. For DIYers, it's also important to remember that the BRM Flex-Hone® is a low RPM tool that requires the use of a high-quality lubricant such as Flex-Hone® oil.
Watch. Learn. Connect.
As a full-line supplier of surface finishing solutions, BRM supplies flexible honing tools and automotive brushes for sports car engine rebuilds and more. For a fun, fast-paced look at Flex-Hone® tools, copper center wire wheels, wire end brushes, and scrub tooth brushes, check out BRM's 30-Second Engine Rebuild video.
Then, if your travel plans take you to two of the biggest automotive tradeshows of 2016, meet the BRM technical team at SEMA or PRI.
SEMA 2016 (Booth #10275)
From November 1 to 4, BRM will be at SEMA 2016 in Booth #10275 in Las Vegas, Nevada. Request a meeting.
PRI 2016 (Booth #5513)
Then, from December 8 to 10, BRM will be at PRI 2016 in Booth #5513 in Indianapolis, Indiana. Request a meeting.