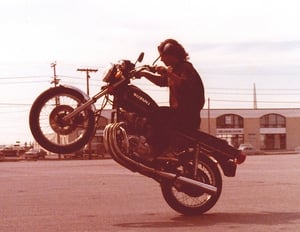 Suzuki GS-550 motorcycles first hit the roads over 40 years ago. The bike's original four-stroke engine was an air-cooled, 549-cc powerplant with dual overhead camshafts. The 674-cc Suzuki GS-650 eventually replaced the GS-550, but some bikers are still rebuilding Suzuki's original engine blocks.
At Do the Ton, an on-line forum for motorcycle mechanics, a user described a GS-550 engine teardown and rebuild. Cylinder resizing requires rigid honing, but achieving an ideal final finish means using Flex-Hone® tools from Brush Research Manufacturing (BRM).
Flexible Honing for Motorcycle Engines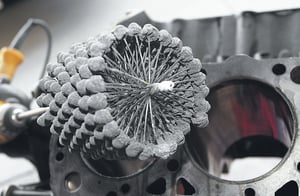 Many engine mechanics are familiar with honing stones, but rigid hones can create uneven or unidirectional cross-hatch pattern. By contrast, flexible cylinder honing imparts a uniform finish along the length of the entire cylinder. This plateau finish reduces friction and wear, supports piston ring seating and sealing, and promotes engine performance.
Flex-Hone® tools create this surface condition by removing cut, torn, and folded metal while reducing raised areas or peaks to a uniform height. BRM's engine hones also impart a series of oil-retaining grooves or valleys for optimum lubrication. Flexible hones aren't designed for heavy-duty material removal, but the cross-hatch pattern that they impart is ideal.
Plus, flexible honing requires no special training or instruction. Flex-Hone® tools can be used with electric drills and are self-aligning, self-centering, and self-compensating for wear. As the GS-550 owner from Do the Ton explained, motorcycle mechanics can get great results.
How to Hone Engine Cylinders
First, the Suzuki GS-550 owner chucked a 240-grit aluminum oxide (AO) Flex-Hone® tool into his cordless electric drill. BRM offers Flex-Hone® tools in 8 different abrasive types, 11 different grit sizes, and various tool diameters. The base material determines the abrasive type. The amount of work to perform drives grit selection. To provide a soft cutting action, Flex-Hone® tools are always used in an oversized condition.
Next, the biker coated the tool withFlex-Hone® oil, BRM's own special blend of honing and lapping oils. After stroking the engine cylinders at low RPMs, the motorcycle mechanic used BRM's cylinder wash brushes and some warm, soapy water to remove residues. The final step involves applying a clean, lint-free cloth that was coated with light oil or mineral spirits.
Would you like to learn more about flexible cylinder honing for motorcycle engines? Then download the Flex-Hone® Resource Guide, the ultimate source of information about Flex-Hone® selection and use.