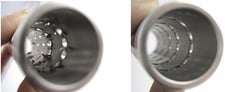 For cylinder deburring and surface finishing, Flex-Hone® tools get great results. Made in the USA by Brush Research Manufacturing (BRM), these flexible honing tools remove loose, torn, and folded metal while creating a substantially flat or plateau surface. BRM's flexible cylinder hones also remove burrs from cross-drilled holes and slots.
Flexible honing doesn't require any special training or instruction, but there is a right way to use BRM's metalworking tools. By following the ten tips in this article, you can cut your deburring costs while improving cylinder surface finish. Future articles in this series will take a closer look at each tip, but here's an overview to get you started.
1. Enter and Exit While Spinning
Rotate the Flex-Hone® before entering the bore and remove the tool while it's still spinning. This helps to create a uniform cross-hatch pattern on the cylinder walls.
2. Slow Down Too Stay Cool
The BRM Flex-Hone® is a low RPM tool. High speeds can generate excess heat that shortens the tool's life.
3. Don't Feed Too Slowly
Super-slow feed rates can lead to premature Flex-Hone® wear. Try increasing the inches per minute (IPM) while maintaining the desired results.
4. Don't Stroke Too Much
Why use ten strokes when five will do? Overhoning is unnecessary and can reduce tool life significantly.
5. Spin in Both Directions for deburring
For more symmetrical deburring, rotate the Flex-Hone® in a clockwise direction, remove the tool from the bore, reverse the spindle, and then hone in a counter clockwise direction.
6. Always Use Lubrication
The Flex-Hone® requires the use of a lubricant to prevent excess heat, tool loading, and premature wear. BRM Flex-Hone® oil is a special blend with all of the right ingredients.
7. Never Use Solvents
You can use other cutting, tapping, or honing fluids instead of Flex-Hone® oil, but avoid solvents. They tend to degrade the tool's adhesive bonds.
8. Choose Tools Wisely
Flex-Hone® tools come in 8 different abrasive types and 11 different options. For best results, use the flexible hone that right for your base material and surface finish requirements.
9. Try Two Grits
Sometimes, it's more effective to run a shorter stroke count with two Flex-Hone® tools. If the starting Ra is 35 and you want a single-digit finish, start with a coarser-grit tool and then use a finer-grit tool with the same abrasive type.
10. Consider Custom Solutions
Cross-hole deburring in a production environment can take a toll on any tool. To extend Flex-Hone® life dramatically, consider a custom-diameter Flex-Hone® for your next cross-hole deburring project.
BRM hopes that this information has been helpful, and encourages you to check back for future articles in this series. In the meantime, download the Flex-Hone® Resource Guide for complete information about choosing and using BRM's flexible honing tools.